Jam Night with Josiah
Friday November 17, 6:30 - 9 p.m.
Join us for a monthly open acoustic jam in the parlor of the Balch with proprietor Josiah Dean and other local musicians. Fun, casual supportive environment.
Bring your favorite instrument and share the tunes. We'll even have extra percussion to play if you don't have yours.
Or just show up and enjoy dinner, a beer or wine and listen.
FREE (other than your food and beverage purchase)
Friday November 17, 6:30 - 9 p.m.
Thanksgiving at the Balch
November 23, 4 p.m.
In a tumultuous year, it's important to lean back and see how much there is to be grateful for and what better time than this Thanksgiving — that holiday of gratitude! Holidays at the Balch are really special — low key, low tech, interactive and fun, not high pressure, high drama affairs.
Let us do the cooking AND clean up! We're offering our family-style feast again! Enjoy an elegantly simple traditional Thanksgiving feast, updated with artisanal flair — mostly organic and locally sourced.
Thanksgiving at the Balch includes walking the golden fields, lounging with a good book, playing games, sipping wine or beer, cozying up with your favorite locally sourced cuppa, doing puzzles, and bundling up for bocce or croquet on the lawn.
Its golden warm and sunny most days, with crisp evenings and mornings. We'll have a fire roaring on the patio (weather permitting) and the cozy parlor with Mount Hood view awaits your glass of wine or cuppa.
Make a weekend of it! We still have rooms available and we're offering a Fall Holiday Package: buy 2 nights get your 3rd night free! You can see and reserve your room here.
Enjoy a precious Thanksgiving traveling with your loved ones, or come solo. Either way you'll join our big tables--a family style gathering. It's an intimate, relaxed weekend of giving thanks.
RESERVE YOUR SEAT: Call 541.467.2277
Menu:
Organic Winter Salad honeyed walnuts,feta,and Cranberry Vinaigrette
Mary's Free Range Organic Turkey w Cider Glaze
Hazelnut and Herb Stuffing
Organic Roasted Root Vegetables
Caramelized Brussels Sprouts and Fennel with Dijon Butter
With Spiced Cranberry Sauce, Biscuits
Desserts:
Wine, beer and cider pairing offered for additional purchase.
Thursday, November 23, 4:00 p.m.
$39 per person, gratuity not included.
RESERVE YOUR SEAT: Call 541.467.2277 or Purchase HERE
Dufur Hometown Christmas + Dinner
Old-Time Holiday Fun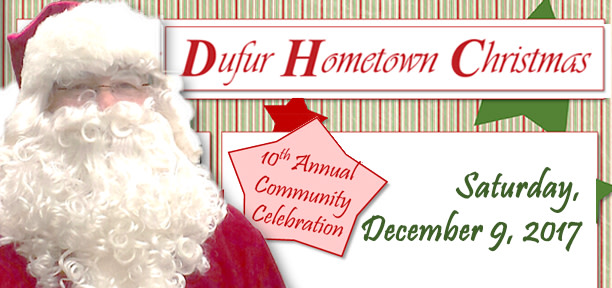 Do you ever wish the holidays could go back to a slower simpler time, without so much hype and commercialization? Come to Dufur's village-wide holiday celebration. Experience our small-town classic Dufur Hometown Christmas, with the highlight: Lighted Tractor Parade, along with Holiday Craft Bazaar, visits (and photos) with Santa and more!
Sip hot holiday beverages as you stroll the streets of Dufur and enjoy winter cheer with friends and neighbors. Enjoy the Balch's special dinner offerings, along with board games, jigsaw puzzles, wine tasting and other small town treats.
Early in the day there's a Christmas craft bazaar, photos with Santa, and special seasonal treats offered at Kramer's Market and other spots in Dufur. Hear live music at the Community Center around 2:30 and then return to the Balch for front row (balcony!) seats for the lighted tractor parade at 4:30 right out our front doors!
Enjoy a special 3 course prix fixe. $35 per person (Reservations required)
Prime Rib dinner.
Organic Winter Salad with Cranberry Vinaigrette
Sauteed Broccoli with lemon butter
Roasted Garlic and Rosemary Red Potatoes
Apple Crisp
Relax with a warming spa treatment and enjoy the holiday season with friends, family and your favorite loved ones.
Reserve your room early, as this weekend is one not to miss and sells out. It's a great weekend to enjoy our buy 2 get 1 free holiday room special. See those details HERE
Friday December 8 through Sunday December 10
Art Parties
Indulge Your Creative Spirit
Express your creative spirit--art-making with a social twist. We'll paint, nibble, sip and play, under the expert guidance of local artist, art therapist and Balch Hotel co-owner, Claire Sierra, MA.
In December, we'll paint "Guadalupe" and celebrate the patron saint of the America's for the Feast Day of Guadalupe.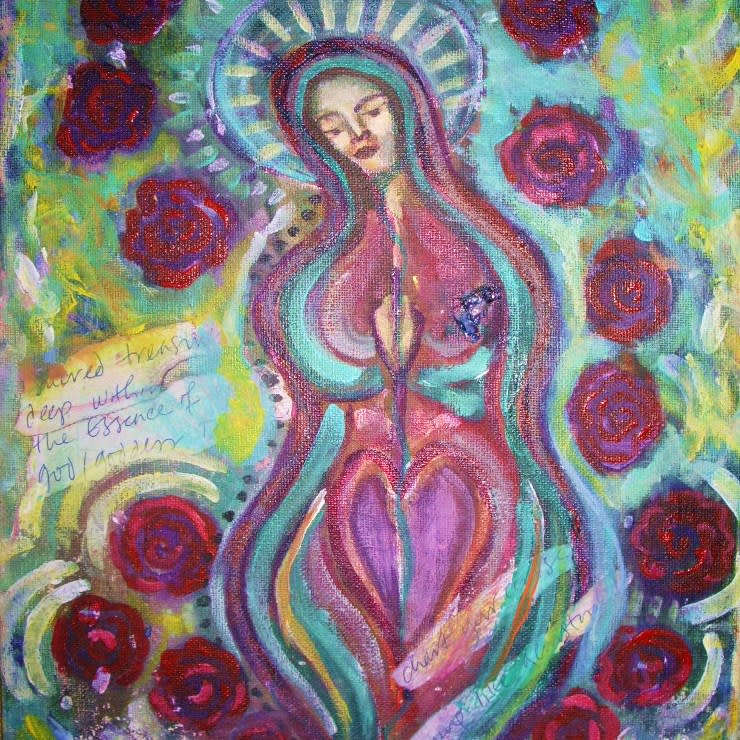 You'll be guided to create this image. Customize and experiment with (optional) mixed media techniques, too! This petite 12" x 15" piece will fit nicely in just about any space. Even makes a lovely gift!
Bring a date or come solo and meet friends here. Leave with your own original art work. Yummy food, local wine, beer and other beverages are also available for purchase (not included.) A fun, creative evening out. Absolutely no experience required. Everything you need is provided!
Spend the night at the Balch as the start of your own personal creativity retreat. (You can keep painting here all here weekend, you know.)
$40.00 includes all art supplies and instruction.
December 12
6:30 - 9 p.m. at the Historic Balch Hotel in Dufur, Oregon
To reserve a room, call 541.467.2277 or book online HERE
To see other Creative Spirits events around the Gorge, GO HERE
Claire has over 22 years experience facilitating creativity based retreats and workshops. Questions? Call Claire 541.659.7284 or email: Claire@MagdalenePath.com.
Sisterhood Supper
Women's Dinner Party
Do you crave more time out with a few girlfriends? Experience a new gathering space where women connect, laugh and have inspiring conversations that matter.
Feminine energy is a powerful positive force we're cultivating now.
Join our big table, order dinner, drink wine and savor dessert for a sweet time with new friends in sisterhood. Bring a friend or come alone.
Dinner available from our local/organic Light Fare menu (plus specials), along with local wine, beer, cider, and other beverages.
FREE (Dinner and drinks not included.)
Third Thursday every other month:
December 21, 6:30-9pm (Please, arrive/leave as your schedule allows)
AND RSVP, PLEASE!
CALL 541.467.2277
email: info@BalchHotel.com

Christmas (Eve) Dinner
A New Family Tradition
Experience a new family tradition: Christmas at the Balch! Enjoy the holiday elegance of our historic inn all decked and sparkling in her finest holiday wear.
Stretch your holiday fun! This year the holiday falls on a Monday making it a great opportunity for getaways with loved ones.
Stay 3 nights for the price of 2! We've got a seasonal buy 2 get 1 free hotel package which you can see and reserve here.
To make the weekend last longer, we'll present Christmas Dinner on Christmas Eve, giving you the day after for relaxation and if need be, travel. No need to rush home.
Enjoy the weekend exploring the area, relaxing in the lobby with a good book and hot cup of tea or local wine/ beer. Gaze at the view of Mount Hood from the cozy parlor. Take walks or borrow snowshoes and tromp in the fields or Snow-Park nearby.
Dinner on Christmas Eve: In the afternoon, enjoy a rustic elegant seasonally inspired feast, starting with small plates and appetizers in the lobby. Then gather at a large table for family style service with the company of other like-minded guests. (Just wait, the synchronicities are always delightful.) Scroll down to see menu presented below.
Spend the evening doing a big puzzle or snuggle under our giant Christmas tree, or take a bath in a claw foot tub. Simple pleasures and the charms of Dufur await.
December 24 at 4 pm.
$40 per person, gratuity not included.
MENU
Appetizers:
Spinach and Artichoke Dip

Blue Cheese stuffed Medjool Dates

Fresh and Pickled Vegetables with Hummus
Salad
Chicory and Spinach with Roasted Beets and Balch House Vinaigrette
Soup
Spicy Roasted Winter Squash
Main
Holiday Ham with Riesling-Mustard Glaze

Potato and Gruyere Cheese Gratin with Fennel
Dessert
Rum Raisin Bread Pudding with Cardamom and Caramel
Seasonally selected local wines, beer and cider will be available for purchase with suggested pairings available by the glass or bottle. Specialty soda, tea, and kombucha also available.
New Year's Eve 2017
Story Slam & Dinner
Do you have a story in you waiting to be told? We're continuing the Balch tradition of storytelling on New Year's Eve, ala The Moth Radio Hour. (Are you an NPR fan too?)
Anyone who wants to can tell a story. (It's low key and super fun!) Throw your name in the hat and share a story. This year's theme: "The Not-So-Great Tale of..."
First: meet and mingle in the lobby for appetizers and no-host wine/beer from our local list.
Then gather in the dining room for a fabulous 5 course feast. (see details below.)
Then we'll move to the parlor, where we'll play a fun simple warm up game and lounge with celebratory beverages. Then we'll share stories spun from gathered guests.
We'll savor dessert and a sparkling wine toast at Denver midnight.
Dinner Menu (subject to changes and additions)
Appetizer: Ceviche Style Shrimp Cocktail
Salad: Organic Winter Greens with White wine vinaigrette
Soup: Creamy French Onion
Main: Prime Rib OR Baked Halibut with wild rice pilaf and roasted broccolini
Dessert: Dessert Bar in Parlor
$70 per person (gratuity not included.)
Sunday January 31, 7 pm.
Call 541.467.2277 to reserve a seat and your room. We're offering a "buy 2 get 1 free" Holiday Special to encourage you to spend the weekend with us at a great price. Not only are rooms reduced for the winter, but when you reserve 2 nights, you get the third night FREE! You can book that HERE
Own Your Future: Planning Retreat
January 16-17 and 18-19, 2018
Your business is surviving, but at what cost to your mind, body, and relationships? A catalyst enables a significant business reaction to proceed at a faster rate or under different conditions than otherwise possible. Are you ready for a catalyst in achieving an amazing, not-too-distant future?
WHAT:
"Start to finish" 2-day Strategic Planning workshop for a fraction of the cost that big businesses pay for this exact program. You and your business thought partner will develop a compass for running your business.
Clarify your IDENTITY
Dream an INSPIRING FUTURE
Analyze the CURRENT STATE
Set near-term GOALS
Select STRATEGIES to achieve them
Create an ACTION PLAN with tasks and dates
First-time participants will have support to create work products from scratch. Past participants will revisit and refresh their work products and get additional content. Exercises are updated each year. So returning participants benefit from new insights.
WHEN:
OYF 1.0 (for new or returning participants) January 16 and 17, 2018*
OYF 2.0 (for returning participants) January 18 and 19, 2018*
WHERE:
The Historic Balch Hotel in Dufur, Oregon
COST PER BUSINESS:
$475 Earlybird, $550 Regular Price
Includes retreat tuition and materials, breakfast, lunch, & overnight accommodations (1 traditional Queen room) at the Balch for up to 2 people per business. Upgrade to Queen with private bath for $40. Additional Traditional Queen room is $75.
HERE'S WHAT PREVIOUS PARTICIPANTS HAD TO SAY ABOUT THE OYF RETREAT:
This was awesome and has definitely helped us focus our efforts!
The goal setting techniques are very empowering.
Great balance of time management and flexible flow. Group instruction and sharing, private quiet time, and one-on-one time with you. You balanced all of our needs.
You were generous with time and attention. I appreciated that you shared additional concepts and tools as we needed them. The Hartman Performance Diamond was great for thinking about employee issues.
Good stories and examples. I loved the charts and drawings too.
The materials were fantastic. I'm a fan of big paper and colored markers! The color coded notebook and emailed templates for us to fill in were super.
REGISTER FOR CLASSES IN 2 STEPS:
1) Complete the registration form through this link
https://docs.google.com/spreadsheet/viewform?fromEmail=true&formkey=dFREb3htcW9EZ2tfUWpYZWp3YTcwOUE6MQ
2) Mail check to 202 Oak Street, Suite 100, Hood River, OR 97031
Registration is not complete until payment is received.
———-
*These Own Your Future retreat are scheduled in January because that is the time of year many people like to do strategic planning. Weather can pose a challenge though and it is hard to predict much in advance, exactly how drivable the roads will be. So we are prepared with a back-up plan.
If on the first day of the retreat, there is inclement weather and the roads are safely drivable but require chains/studs and slow driving, we will have a delayed start by one hour.
If in the days leading up to the retreat or even the day of, we learn that it is unsafe to drive to Dufur on the planned retreat dates, the retreats will be rescheduled to January 30/31 (for OYF 1.0 if January 16/17 is a problem) and February 1/2 (for OYF 2.0 if January 18/19 is a problem). Unlike previous years, registration will not be rolled to the next year in case of inclement weather. Registration will only be rolled to the rescheduled dates. Refunds or Catalyst credit will only be granted if there is some unforeseen extreme situation where Stephanie is unable to facilitate and the retreats are completely cancelled. Hopefully, since we have a solid back-up plan in place this time, we won't need it and our retreats will run smoothly of January 16/17 (OYF 1.0) and January 18/19 (OYF 2.0).