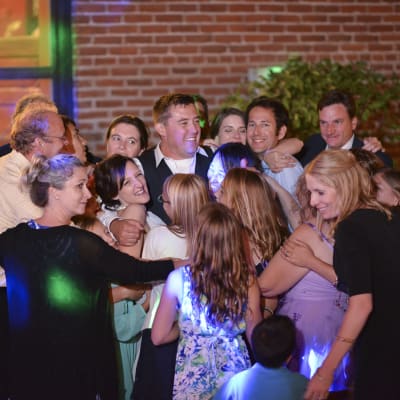 Calendar
Retreats, Workshops & Tours in the Columbia Gorge
Be sure to check back often as we add events through out the year.
January
Closed for Private Retreat: January 24 - 26
Winter Wonder and Wine Weekend: January 31 - February 2
February
Valentine's Dinners: Friday and Saturday February 14 & 15
March
Write Away From It All Retreat: March 5-8
4th Annual Dufur Bluegrass Hoot: March 13-15
After Hours for The Dalles Chamber: March 19
April
Easter Brunch: April 12 10:30 a.m. to 3 p.m.
Wildflowers and Wine: April 17 - 19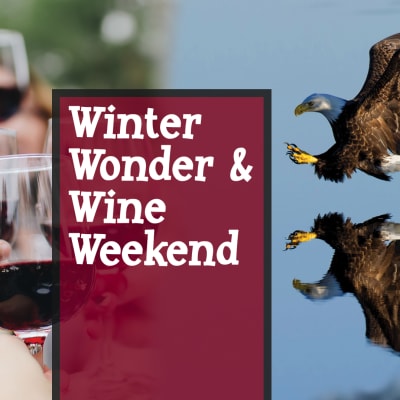 Winter Wonder and Wine Weekend
January 31 - February 2
Escape the gray and enjoy a wintertime weekend getaway to the sunny and breathtaking east Gorge. See and learn about eagles that converge here with encounters up close and at a distance.
On this weekend adventure you'll explore scenic, lesser-traveled vantage points, meet interesting people and delve into the rich, unique wine and natural history of the local area.
Over a relaxed weekend of winter meandering, you'll do some wine tasting, eagle viewing, and meet local experts to learn about these majestic raptors wintering in the Gorge.
Enjoy a getaway to Dufur and experience a few of the Gorge's quirky highlights.
Other activities include a special visit at the Raptor Center in The Dalles, with wine tasting at 2 unique local wineries, evening fire pit, wine & dessert Owner's Reception, and special dinner Saturday night (with evening presentation).
Celebrate unique wonders of the Eastern Columbia River Gorge while enjoying a two-night getaway package. Its all inclusive so everything is taken care of.
Price for package includes Friday reception, Saturday nature viewing, museum visit, van travel lunch, wine tasting and dinner:
Traditional Room (with shared bath) $195 (per person, double occupancy*)
Signature Room (with private bath) $231 (pre person, double occupancy*)
*Inquire about rate for single occupancy.
Book now:

Book online at BalchHotel.com or call 541-467-2277
Cancellation Policy: We hope this doesn't happen but...
Prior to seven (7) days before this event results in a 75% refund.
Prior to three (3) days before this event results in a 50% refund.
Within 72 hours of this event - no refund.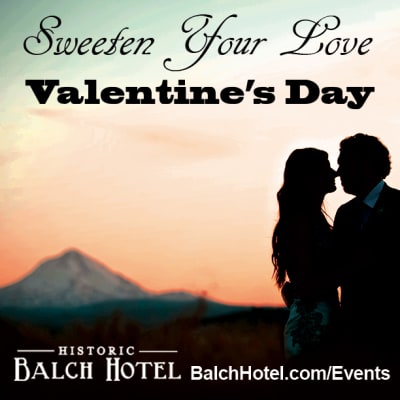 Valentine's Dinners
February 14 and 15
Sweeten Your Love: Valentine's Day Dinner
Experience authentic, intimate, elegance dining at our historic inn. Enjoy a 3-course artisan dinner by candlelight with your sweetie.
Friday & Saturday, February 14 & 15. Reservation times vary. See menu below.
Dinner for two is just $70 + gratuity
Call to Reserve Your Space: 541.467.2277
Expand Your Romance: Stay the night!
Enjoy a romance getaway with a sweet room package special, including 20% room discount, dinner for 2 ($70 value) and a bottle of sparkling wine ($29 value).
Traditional (share a bath across the hall) $176 (Valued at $210)
Signature (private bath en-suite) one night for $208 (Valued at $250)
To book your room and dinner package go to BOOK NOW and choose February 14 or 15. After you choose a room the Package details will pop up for you to add as you check out. You will still need to call to reserve for dinner.
OR Call 541.467.2277 to reserve this package or to reserve seats for dinner only.
---
Sweeten Your Love: Valentines Dinner Menu
3 courses with 2 options for main
Salad: Champagne vinaigrette pickled onions sliced radishes toasted pumpkin seed organic greens
Main: choice of
Seared salmon with lemon risotto and haricot verts
or
Butter and herb basted ribeye steak with garlic roasted Yukon gold potatoes and haricot verts
Dessert: Red velvets layer cake or fruit crisp with ice cream
February 14 and 15
Dinner for two is just $70 +20% gratuity will be added.
Reservation times vary. Call to Reserve Your Space: 541.467.2277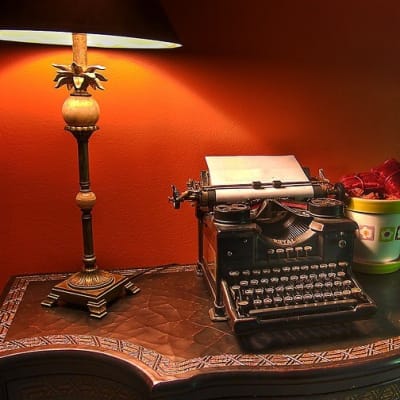 Write Away From It All
Retreat for writers, artists and creatives who need dedicated time away to focus on their creative project.
"If I have 40 hours--uninterrupted or in chunks--I can write a book." Author Ruth Miller, PhD
"I wrote 90% of The Magdalene Path away from home in a cabin—I don't know how other writers get anything done in the midst of daily life, it was impossible for me." Author Claire Sierra, MA
Do you have a book, painting or other creative project that you just can't seem to get done?
Your idea hasn't made it to the page yet, or your project is almost complete, but life distractions: kids, work, spouse, other obligations always seem to get in the way.
Whether it's your great American novel, memoir, poetry chapbook, dissertation, screenplay, or HuffPost article*… you can't get it done if you don't have the time/space to focus. Make it happen for yourself!
Write Away From It All Retreat is a clear space to focus and create.
Lightly structured with lots of time for writing or creating, this retreat weaves in support, self-care (think yoga, walks and meditation) and time to interact with other participants--all optional. Minimal structure and social time if you want to squirrel away in your room to work.
Evening or morning sharing circles are included but optional. Read something you're excited or want feedback about. Celebrate your progress, or get support during a stuck spot, so you can move ahead.
Retreat to the Balch: lovely vintage rooms, cozy beds, elegant lobby, library, dining room and outdoor patio (weather permitting) provide ample space for writing. Garden grounds, pond and stunning mountain view on the sunny east end of the Gorge provide fresh perspective to reflect and create.
Meals are provided (or available) so that planning, cooking, & cleaning up are taken care of. You show up and eat when you want*, whether solo or with the group.
And should you need it, additional coaching is available from someone who knows the territory: author and soul coach Claire Sierra uses her skills as a counselor, aroma therapist, energy healer and writer to guide you through writer's blocks (additional fee of $75 per 1/2 hour.)
Also available are spa wellness treatments in Temple Spa at the Balch Hotel.
Private Option: Do this on your own schedule. Email or book online.
Group Option: join us 3x year (March, May/June, October/November)
Retreat Schedule: Thursday 3 pm – Sunday 3 pm
(Tentative Outline, subject to change with participant input. )
Thursday: arrive evening circle at 7 pm
Mornings: Breakfast (included) with group check in (set your goals, plan your day, share celebrations and get support) then writing!!
Lunch breaks (included) with optional walk or yoga
Afternoons: writing time and/or spa and breakthrough sessions if you're stuck and need 1:1 support; otherwise support provided in group
Dinner available at Balch Bistro or in the village of Dufur (additional fee)
Evenings Group reading/sharing — timing and need determined by group--participation is optional
Optional AM walk and PM yoga or meditation
*mealtimes will be developed with participants timing in mind.
March 5-8
Retreat includes support circles, yoga and walks, Lodging for 3 nights, Breakfast and Lunch (Dinner is available on site and added to your retreat bill.)
Choose Your Room Type:
Traditional Euro style, Queen bed with private bath across the hall) $548
Signature : Queen bed with bathroom en suite $638.
Per person, single occupancy.
Coming as a couple or with a friend? Contact us for shared room rate
Book online at BalchHotel.com or call 541-467-2277

Cancellation Policy: We hope this doesn't happen but...
Prior to seven (7) days before this event results in a 75% refund.
Prior to three (3) days before this event results in a 50% refund.
Within 72 hours of this event - no refund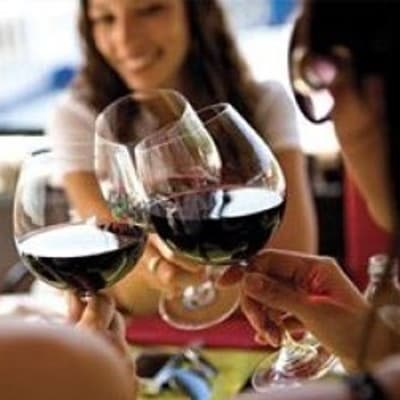 Sisterhood Supper
Women's Dinner Party
Do you crave more time out with a few girlfriends?
Join our women's dinner party -- a place to connect, laugh and have empowering, intentional dialogue. Feel safe and supported in a circle of sisterhood, where you belong and your voice is heard, all enhanced by yummy food and good wine (available for purchase separately.)
You'll join our big table of 4-8 for curated conversation on topics that stir you, led by Balch owner, spa/retreat leader and art therapist Claire Sierra. Meet inspiring women and savor sweet rejuvenation of sharing a luscious meal together.
Bring a friend or come solo—you'll make new ones in sisterhood!
Feminine energy is a powerful positive force that's needed right now--let's cultivate it together with our Gorge neighbors. Savor sweet synchronistic connections over food, wine and dessert for a nurturing time with friends new and old.
Dinner is offered from our local/organic Light Fare menu (plus specials), along with locally sourced wine, beer, teas and coffee. (And yes, we can accommodate vegetarian, vegan and gluten free--let us know when you RSVP.)
Come early and have a spa treatment! (you can see luscious options and reserve HERE)
What the heck, spend the night! We'll gift you a 15% discount--book directly on our site and use PROMO CODE "15DEAL" or mention attending this event when booking on the phone. (not valid with other offers.)
2020 Dates TBD
6:30-8:30 pm (but please, arrive/leave as you need)
FREE (Dinner and drinks For purchase--not included.) For possible food offerings, see our menu HERE
MUST RSVP, PLEASE!
CALL 541.467.2277 or EMAIL YOUR RSVP: info@BalchHotel.com or Claire@BlissBreakthrough.com.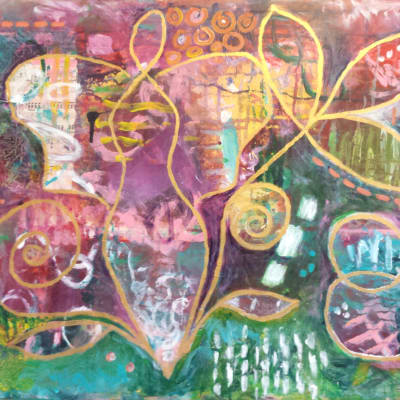 Rose Temple
Are you yearning for deeper connection to your feminine power and magic?
A sacred space to access your higher guidance & authentic self?
Gather for an evening women's temple* and experience your Divine Feminine Self...! We'll explore seasonal messages in another temple experience.
Explore your sacred feminine self--in balance with the Masculine mode we've been taught to rely on. discover the path of priestess/priest through the Magdalene-Madonna Mysteries, and the Path of the Rose. (there's more here than we've been told!)
Let's dive in!
Enjoy deep-dive connection, creative exploration, soulful conversation, and simple ceremony that spans religious traditions in a virtual circle on Facebook Live from the ruby parlor of the award-winning Balch Hotel.
Access your Feminine magic, remember your Truth, and gain clarity about your soul's calling. Maybe do a little art, writing, meditation &/or embodiment practices, as you enjoy tea & treats.
*These circles are open to all genders who are exploring this path. While they tend to be all women, men who are open are welcome, too.
Guided by Claire Sierra, MA (Art Therapist, retreat leader, Balch Hotel owner/spa director and author of The Magdalene Path.)
Access deeper spiritual connection and sense of belonging with other like-minded women (and a few cool men!) from around the world.
Recharge in a supportive circle of sisters. Maybe even a brother, too.
Explore your soul yearnings.authentic truth and sovereignty.
Celebrate the Light and blessings of the season.
2020 Dates COMING SOON!
No pre-registering or fee!
(The video will be pinned to the top of the page until the next Livestream. (Use the link above.)
Questions? Call/Text Claire 541.659.7284 or Claire@MagdalenePath.com
Details: www.MagdalenePath.com