Balch Hotel History
Where the Columbia Gorge Meets Oregon's High Desert
The Balch Hotel was built in 1907 by Charles P. Balch, a local rancher and druggist who owned approximately 1,600 acres adjoining Dufur. The bricks used were made on his ranch.
The hotel opened January 17, 1908. Rooms cost $0.50 to $1.25, touting "hot and cold water in every room, electric lights and steam heat." The 18-inch thick brick walls continue to keep the building cool during the hot Dufur summers.
The lore is that the Balch family, brought the safe that you can see in the parlor from their home in Beverly, Massachusetts..
Original fire hoses remain hanging in the hallway (now disconnected) and the old electric meter is in its original location on the second floor. Remainders of the hotel communication system remain in each room, though no longer reach the front desk. (Use your cell phone instead!)
When electricity came to Dufur Valley, two places had this technology: the Balch Hotel and what is now Sunshine Mill. Each business had 12 hours. The mill during 12 hours of daytime, and then the Balch at night.
The hotel was intended to support rail travelers coming from The Dalles. Great Southern Railroad would drop off salesmen and deliver supplies to Dufur. The salesmen would set up their wares in the parlor and traipse through town announcing their arrival.
In 1914 Frank and Ethel Ingels purchased the property, operating it until the 1940′s. The hotel was then sold and operated as apartments, rooming house, and private residence until being purchased in 1988 by Howard and Patricia Green of Portland.
The Greens worked tirelessly for many years restoring and repairing the hotel – from restoring the entry, porches and brick work to renovations adding individual bathrooms to South-facing rooms.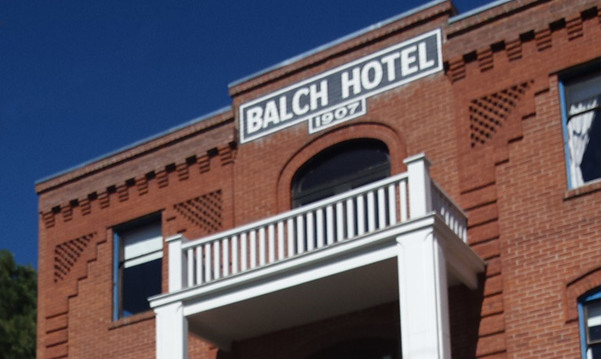 After a life-long fascination with the old hotel, Samantha Irwin and husband Jeff purchased the hotel in the Summer of 2006. They painstakingly continued the restoration work, to revive the grandeur of the hotel. They re-opened in 2008, primarily as a wedding and retreat venue.
In 2015 Josiah Dean and Claire Sierra acquired the property with a vision of rural charm and world-class service. Josiah has a long history in the hospitality industry, running historic hotels in national parks and beautiful locations from Alaska to Maine.
With Josiah's ethos of exceptional hospitality and Claire's eye for beauty and attention to detail the Balch has garnered industry awards, including #1 rating in the Gorge for Top Travel Destination, according to Google, Yelp and Trip Advisor.
With an advanced training in variety of healing arts, Claire is the priestess of Bliss at the Balch, a petite spa wellness center. Licensed and certified to offer soul coaching, skincare, Reiki, art therapy, and aromatherapy and more, her services add a restorative edge for those who want to go deeper.
The couple envisions the Balch as an place where people get away to relax, rejuvenate and reconnect. Their vision for the property integrates the sustainable practices of eco-hospitality, supportive community, and creating a more luscious and delightful world.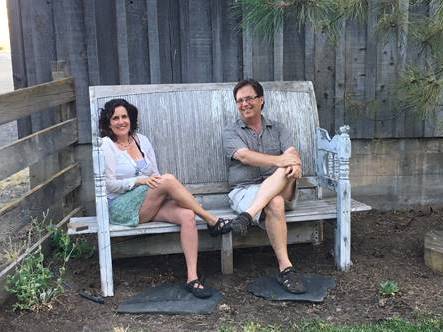 The three story brick building has 20 guest rooms. All are single queen with the exception of the master suite, which boasts a Mount Hood view and private bath with whirlpool tub on the third floor. Each room has an individual style of vintage furnishings and original art. Signature rooms have private baths en suite; Traditional rooms have sinks and share several common private baths.
Although updated, at the Balch there is still a startling lack of modern electronic amenities. There are no TV's or phones in the rooms. (However, there is wireless Internet access for those who need a get-away work space.) And there's air conditioning. Guests come to the Balch to disconnect and reboot from harried life.
Guest Raves
"...a wonderful hotel, landmark and setting... we will be back."
"Thank you for opening not only your home but also your heart. It takes true passion to create those memorable moments and many have lent their hands to our stay. You have a wonderful hotel, landmark and setting and we will be back to savor your hospitality again. We wish you continued success and thank you for a wonderful experience."
-- Allison and Paul T.
"...adorable quaint and quiet....lovely staff"
"This bed and breakfast is adorable and quaint, the rooms are not fancy but comfortable. Beautiful antiques, furniture and woodwork.They have a warm friendly staff and the owners are so personable and just great! The breakfast was delicious, and the warm cookies offered on our arrival was a nice touch. We will definitely be back :)"
-- Heather W.