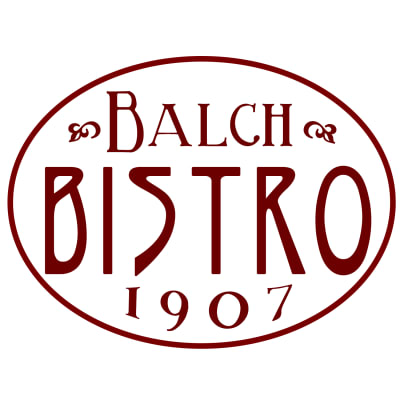 Dinner
Balch Bistro offers fresh local fare
Whether an overnight guest or just passing through, you no longer have to leave the lovely Balch grounds to satisfy your hunger. We heard your pleas and we're excited to offer you an option for evening meals--updated seasonally and with specials on the weekends. Lunch available by special request.
We welcome our local community for dinner on the weekends, when we can assure to be here to serve you. Please call 541.467.2277 for dinner reservations and to be sure we are not closed for a special event.
Eat in our dining room, parlor, or outdoors on the patio when the weather's nice! Sip wine, beer, cider or artisan soda from our extensive local list. Lovely!
Dinner is served from 5 p.m. to 8 p.m., seven days a week.
Friday Nights: Tri Tip Beef
Roasted beef tri tip with fresh, house made mint chimi churri sauce, roasted Yukon gold potatoes, and seasonal vegetables with soup or salad 26
Light Fare Menu:
Salmon Cakes
Two house-made cakes with lemon-garlic aioli, served on a bed of mixed organic greens. (GF) 16
Mediterranean Wrap
Fresh organic greens, spiced quinoa, organic chicken breast and feta dill dressing in a warmed, spinach tortilla. Served with chips and fruit garnish. (A favorite!) 14
Vegetable Hummus Wrap
Mixed grilled vegetables wrapped with hummus and organic greens in a warmed spinach tortilla. With chips and fruit garnish. 12
Balch Salad
Organic mixed baby greens with (or without) grilled organic chicken breast, crumbled feta, nuts and seasonal fruit, with house-made vinaigrette dressing. Clean and delicious. 12/17
Mediterranean Salad
Grilled organic chicken breast with Mediterranean-spiced quinoa, cucumbers, olives and feta-dill dressing on organic greens. 17
Hummus Plate
Hearty yet light with veggies, olives, feta cheese and crackers (V) 14
Antipasto Platter
Delight in variety. Cured meats, cheeses, marinated vegetables & nuts/dates with gluten free crackers, to suit your palette. (GF) 17
Soup of the Day
Delicious house made soups rotate nightly. Served with hearty bread or crackers. Rustic and yummy. 8
Dinner Specials on Friday & Saturday night rotate with chef's preference and seasonal availability.
We source local and organic whenever possible. We feature natural products from our neighbor, Azure Standard as well as other local farms and suppliers.
Wine, Beer, Cider and other Beverages:
We offer a lovely selection of wine from local Columbia Gorge AVA wineries, available by the bottle and glass, along with locally brewed beer, cider and specialty sodas.
We offer organic, locally blended Good Medicine teas, locally-roasted Post Canyon coffee and house-made (secret recipe) malty cocoa (as well as lemon water in the summer) complementary for our overnight guests. Otherwise $3
Corkage: You're welcome to bring your own wine and beer, though we do need to charge a $10 corkage fee for wine and $2/bottle for beer & ciders you consume in the main floor or patio areas.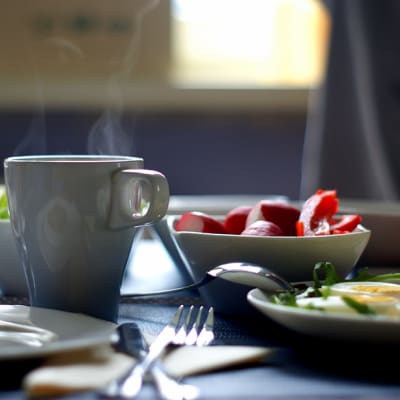 Breakfast
Simple wholesome elegant fare
Included in your night's stay is breakfast the next morning! Start the day at our delicious home made breakfast buffet. We source local and organic whenever possible. We feature natural products from our neighbor, Azure Standard, as well as farm fresh eggs and produce.
Enjoy a buffet of freshly baked mini fritattas and homemade muffins and granola, along with hard boiled eggs, seasonal fruit and vanilla yogurt. Yum.
A variety of juices, tea and coffee also awaits you. We offer coffee from Post Canyon Coffee Roasters (The Dalles), artisan teas from Good Medicine Tea (Hood River) and our own secret-recipe malty cocoa, made here with love.
Or enjoy a Mimosa for those special occasions. And when it comes to mornings at a charming getaway in the Gorge, when isn't it a special occasion? ;)

To-go breakfasts are available upon request for you busy travelers. Please let us know when you check in and we'll have that ready for you when you depart.
For your day's adventure, we offer box lunches for your mid-day munching. If your day is likely to include visiting local wineries or museums this can be a real treat when you realize you're hungry. (Please order in advance so we can prepare this fresh for you.)
Our box lunches include:
Mediterranean wrap with fresh greens, quinoa, organic chicken and feta dill dressing.
Fresh organic baby greens or spinach salad with or without grilled chicken and tomato vinaigrette dressing.
Seasonal fruit/cheese, hummus and antipasto plates.
Delicious house made soups with artisan bread.
But really, sit and stay a while, if you can. You'll like it.