Upcoming Events at the Balch
Doing interesting things makes life richer
Check back often: we're always adding new experiences to excite & inspire you.
June
Sisterhood Supper June 22 6-9 p.m.
Boogie at the Balch Concert, June 25 6:30 - 9pm.
July
Jam Night - July 1, 7-9 p.m.
Creative Spirits - Art Soiree at the Balch, July 13, 6:30-9pm
Revitalize Your Private Practice Mastermind
HOLISTIC HEALERS & CONSCIOUS PRACTITIONERS MASTERMIND
Are you frustrated because your work is not what you want it to be?
Do you have a vision that you've been unable to bring to the marketplace?
You love your work but it no longer reflects what you feel called to do--to shift your private practice--but you're holding back, playing it safe.
Plus, you avoid the marketing part and secretly wish clients would just find you. The marketing you do (if any) doesn't land the results you want, or attract the right clients.
Stand out in a sea of practitioners. Get clear about your gifts and express it to the people you're meant to reach.
Together we can discover:
· Deep wisdom tapping into the Soul of Your Business and how it can guide you.
· Refreshing clarity about what you really offer, translated into marketing messaging & networking situations. (It's not what you think it is!)
· Growing your business that feels aligned with who you are, rather than what you've been told you should do.
· Tools to shift your mindset, release limiting beliefs and charge what you're worth.
· Concrete, practical action steps and accountability that are aligned & keep you moving forward.
Stop going it alone. Join a circle of supportive collaboration with other conscious, spirit-centered practitioners, led by an experienced therapist/coach and entrepreneur.
Starts June 3 with half-day retreat at the Historic Balch Hotel
….then meets monthly in Hood River or Dufur. Group time and date to be determined by participants.
Monthly Group (2 hours) $88/session.
Monthly Group plus private coaching to focus on your challenge areas: $198/month
Questions? Let's talk! See if this is for you and reserve a seat. Email Claire@MagdalenePath.com or set up an appointment to chat: www.Meetme.so/ClaireSierra or call 541.659.7284
Claire Sierra, MA, LFT, is the author of The Magdalene Path – Awaken the Power of Your Feminine Soul ©. An Arts Therapist and True Purpose™ Master Coach, Claire has guided thousands of women who feel lost & confused, to connect to their divine guidance for clarity & confidence about their true path. She's led soul-centered creativity retreats and private sessions for over 2 decades. She and her husband own the Balch Hotel, a boutique destination retreat in the Columbia River Gorge. For free resources to guide your path, go to: www.MagdalenePath.com.
Sisterhood Supper
Women's Dinner Party
Do you crave more time out with a few girlfriends? Experience a new quarterly space where women connect, laugh and have inspiring conversations.
Feminine energy is a powerful positive force we're cultivating now.
Join a big table, order dinner, drink wine and savor dessert for a sweet time with new friends in sisterhood. Bring a friend or come alone.
Dinner available from our local/organic Light Fare menu (plus specials), along with local wine, beer, cider, and other beverages. FREE (Dinner and drinks not included)
Second Thursday every other month:
June 22, 6-9pm (But please, arrive/leave as your schedule allows)
RSVP, PLEASE!
CALL 541.467.2277
email: info@BalchHotel.com

Boogie at the Balch-Free Concert Series
June 25, 6:30 p.m.
Join us and kick off our free summer concert series and welcome back our friend: singer-songwriter Chip Dennerlein and his buddy, Mike Vediner playing guitar and vocals.
Chip plays and records in a wide variety of styles & venues over many years. In addition to his rhythmic folk/rock/country roots, his work includes Latin rhythms, swing, jazz--even children's songs and musical theatre.
A review of one of his recent CDs said, "Chip's song writing continues to walk that fine line between the personal and the universal with increasing grace."
He'll be joined by guitarist and vocalist Mike Vediner, whom he first met in Alaska in 1977. They've been playing together ever since.
Mike is known for his large repertoire and being able to take any request from the late 60's and 70's-- especially the Beatles, The Band, and Neil Diamond.
An animated & engaging performer, Chip, will be visiting from Southern OR with his wife, and frequent singing partner, Bucky. These three are sure to surprise and delight.
Join us for a picnic dinner--delicious light fare and local wines, beer and more will be available!
Jam Night
Saturday,July 1, 7 - 9 p.m.
Join us for a monthly open acoustic jam in the parlor of the Balch with proprietor Josiah Dean and other local musicians. Fun, casual supportive environment.
Bring your favorite instrument and share the tunes. We'll even have extra percussion to play if you don't have yours.
Or just show up and enjoy dinner, a beer or wine and listen.
FREE (other than your food and beverage purchase)
Saturday, July 1, 7 - 9 p.m.
Art Parties
Indulge Your Creative Spirit
Express your creativity, with wine and art-making with a social twist. Bring a date or come solo and meet friends here.
We'll paint, nibble, sip and play, under the expert guidance of local artist and art therapist and Balch Hotel co-owner, Claire Sierra, MA.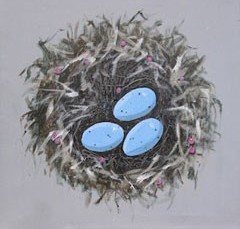 This month we'll paint "Nest" With sweet simplicity, the symbolism of new life is portrayed in our Robin's Nest design. This 12" x 12" piece is easily customized and will fit nicely in just about any space. Even makes a lovely gift!
Absolutely no experience required. Everything you need is provided! You can even change the background to fit your décor. (Optional mixed media techniques, too!)
Leave with your own original art work. Yummy food, local wine, beer and other beverages are also available for purchase (not included.) A fun, creative evening out.
Spend the night at the Balch as the start of your own personal creativity retreat. (You can keep painting here all here weekend, you know.)
$40.00 includes all art supplies and instruction.
July 13 6:30 - 9 p.m. at the Historic Balch Hotel in Dufur, Oregon
To reserve a room, call 541.467.2277 or book online HERE
To see other Creative Spirits events around the Gorge, GO HERE
Claire has over 22 years experience facilitating creativity based retreats and workshops. Questions? Call Claire 541.659.7284 or email: Claire@MagdalenePath.com.