Revitalize Your Private Practice Mastermind
HOLISTIC HEALERS & CONSCIOUS PRACTITIONERS MASTERMIND
Are you frustrated because your work is not what you want it to be?
Do you have a vision that you've been unable to bring to the marketplace?
You love your work but it no longer reflects what you feel called to do--to shift your private practice--but you're holding back, playing it safe.
Plus, you avoid the marketing part and secretly wish clients would just find you. The marketing you do (if any) doesn't land the results you want, or attract the right clients.
Stand out in a sea of practitioners. Get clear about your gifts and express it to the people you're meant to reach.
Together we can discover:
· Deep wisdom tapping into the Soul of Your Business and how it can guide you.
· Refreshing clarity about what you really offer, translated into marketing messaging & networking situations. (It's not what you think it is!)
· Growing your business that feels aligned with who you are, rather than what you've been told you should do.
· Tools to shift your mindset, release limiting beliefs and charge what you're worth.
· Concrete, practical action steps and accountability that are aligned & keep you moving forward.
Stop going it alone. Join a circle of supportive collaboration with other conscious, spirit-centered practitioners, led by an experienced therapist/coach and entrepreneur.
Seats in this closed group are still available
Next session: November 13 from 6-8 pm in The Dalles

….meets monthly in Hood River, The Dalles or Dufur. Group time and date to be determined by participants.
Monthly Group (2 hours) $88/session.
Monthly Group plus private coaching to focus on your challenge areas: $198/month
Questions? Let's talk! See if this is for you and reserve a seat. Email Claire@MagdalenePath.com or set up an appointment to chat: www.Meetme.so/ClaireSierra or call 541.659.7284
Claire Sierra, MA, LFT, is the author of The Magdalene Path – Awaken the Power of Your Feminine Soul ©. An Arts Therapist and Certified True Purpose™ Coach and Spa Wellness Director, Claire has guided thousands of women who feel lost & confused, to connect to their divine guidance for clarity & confidence about their true path. She's led soul-centered creativity retreats and private sessions for over 2 decades. She and her husband own the Balch Hotel, an award winning boutique destination retreat in the Columbia River Gorge. For free resources to guide your path, go to: www.MagdalenePath.com.
Express Your Creative Spirit Retreat
Paint Your Pleasure, Passion, Purpose & Possibility
Have you ever wanted to feel more creative?
....to paint in a free, vibrant, authentic way?
Follow your heart and express the soul force that's trying to come through you: creating with paint can lead right to bliss.
Explore color, shape, texture & design, guided in simple processes to unleash your creativity with Columbia Gorge artist/author/art therapist Claire Sierra, MA.
Settle in to the casual, relaxing elegance of the boutique, award-winning, art-infused Balch Hotel for your creative adventure. (You'll see Claire's and other local art exhibited throughout for your inspiration.)
Discover your pleasure, passion, purpose and possibility through paint and mixed media. Gain clarity and insights about your life path.
Tap Your Creative Wisdom and Feminine Magic as you:
Discover creativity as a decision-making tool, when you feel confused or uncertain.
Build courage and confidence through creative expression—safely test your authentic voice.
Connect to intuitive wisdom and guidance through creative arts.
Experience simple ritual, centering prayer/meditation, movement/yoga and journaling, in a circle of supportive creatives.
Tap the deep artesian stream of Feminine Soul. Connecting with this creative energy, the magic of ease, grace and flow starts to happen more effortlessly.
Playfully fun, deep and simple, this is open to beginners and experienced artists willing to try something new.

Weekend Retreat Package: November 10-12 $222
Includes all art supplies, instruction and lunch Saturday, Sunday. Room & dinner purchased separately. breakfast included with room stay for overnight guests.
Register by 11/3 and receive a complimentary glass of wine at check in, and your own copy of The Goddess Coloring Book, by Claire Sierra, MA. (value: $17)
Day Retreat: Saturday 11/11 only: $122
Includes delicious lunch & all art supplies
Register by 11/3 and receive your own copy of The Goddess Coloring Book, by Claire Sierra, MA. (value: $17)
Register for the Retreat or Workshop HERE
Book your room at www.BalchHotel.com and receive a 10% discount at check in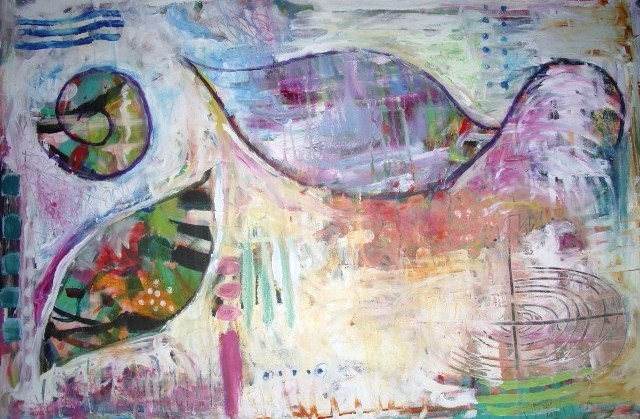 Past Participants Shared...
"Great, magical, transformative retreat. I enjoyed every minute of it. - Melanie K, Portland, OR
"Creative Spirits was a lot of fun. Claire has a natural way of making people feel at ease and comfortable, encouraging both novice and experienced painters to go with the flow of their creative juices and let it spill on the canvas. Unlike other similar events, she encouraged us to personalize, which I thought was genius. Stunning and unique! Claire was very patient, the atmosphere was light-hearted and friendly. - R.C., The Dalles, OR
"I just want to thank you again for that retreat. It literally changed my life. I came home a changed person and I haven't gone back. I had lost touch with myself. I was so busy working. It was sucking the life out of me. I'd lost touch with my bigger vision, my spiritual self and I was so unhappy. I reconnected to the magical visionary part of myself (and dropped a lot of baggage there too." - Savana W., Vancouver, WA
"You made it so easy to learn new techniques and have fun at the same time. You created a great environment. I'm excited to be learning more." - Betsey P., Camas, WA
"What you do is important work. It helps women like me to get grounded, balanced, re-directed, empowered, and inspired -- whatever it is we need at that moment in time. You have helped me get to this point of abundance and I am deeply grateful. If I become stuck again, I know I can come to you. - Linda C, Cave Junction, OR
"I came not knowing what to expect, but with optimistic hope of a new journey toward calm peacefulness and a better perspective. I ended the retreat with a definite sense of purpose and beginning of a new phase of my life—with skills, tips and a new way of thinking in a positive, enlightened, awakened way. - Pat D, Glastonbury, CT
"When I arrived, I was tired and burned out by trying to help family members. The workshop refreshed me and helped me center once again, connecting me with other women in a creative space. I came home feeling recharged and empowered. I loved the whole experience." - Gay M., Portland, OR
Weekend Itinerary:
Friday
Arrive at the Historic Balch Hotel anytime after 3 pm and settle into your room. enjoy a glass of wine and dinner with other guests (not included but available for purchase) Meet and mingle with the innkeeper, Josiah, and his retreat leader wife, Claire Sierra along with your weekend cohorts.
Evening - Gather for an opening circle to start our gathering and meet other participants as we start our journey together.
Saturday

After a delectable morning breakfast, we'll welcome day retreat arrivals. Gather to start our day with simple ritual to identify our core imagery and intention in painting.
Then we'll paint! Claire will guide you with stunningly simple approaches to make it full of fun and pleasure! How to decide what to paint and how to paint it.
Lunch! You'll enjoy a delectable healthy locally sourced lunch, that will be cozy and nourishing. (Please let us know if you have dietary considerations we need to consider! Let front desk staff know when you check in or before you arrive.)
Break for a nature walk in the area, take a nap, bathe in a clawfoot tub, rejuvenate with a spa treatment or explore more ideas in personal journaling. (Or, yes, you can keep painting.)
Afternoon: Resume painting with movement and journaling. We'll explore what to do when we get stuck and how to shift paintings we don't like into something we love.
Dinner is on your own at the hotel, or at one of the options in the village of Dufur. Eat with others, alone for some quiet time.
After dinner: Enjoy an evening activity or continue painting if the muse is inspiring us. Or join a circle and color, read or chat with other participants.
Sunday
Morning: After a scrumptious handmade gourmet breakfast, we'll gather for morning discussion, sharing and teaching. You'll explore movement and music to make painting more free and easy. We'll address challenges you may be experiencing and use creative tools to work through stuck spots that happen.
Lunch break: check-out of your room (if you haven't already) and then enjoy a delectable healthy locally procured meal, that will be cozy and nourishing (again, any dietary considerations we need to consider? Let front desk staff know when you check in or before you arrive.)
Afternoon: Final teaching, sharing and art show! Look at how far we've come! And see what others have done. We'll talk about next steps to keep the creative process going, so it doesn't dry up after you get home.
Completion: We'll close with a ritual for reflection and say our good byes to new friends. End by 3pm.
About Claire:
Claire Sierra, MA, LFT is the author of "The Magdalene Path– Awaken the Power of Your Feminine Soul," published by a division of Hay House. The Magdalene Path is an inspiring guidebook that reveals the timely importance of reclaiming the Divine Feminine for modern women, through the lost mysteries of Mary Magdalene. She's also the creator of The Goddess Coloring Book.
Claire guides multi-passionate women–often spiritual healers and holistic practitioners–who are tired of not being seen, valued or paid well, to create work and lives that are in alignment with their true calling and innate creative abundance.
Using the arts to help women who feel lost & confused about their life direction, Claire has connected hundreds of women to divine guidance for clarity & confidence about their true path. As a Divine Feminine embodiment expert, Claire helps women shift out of depression, anxiety, overwhelm and burnout to claim Feminine Soul power.
An experienced Expressive Arts Therapist and Certified True Purpose Coach, as well as a Licensed Esthetician and Reiki Energy Healer, Claire customizes her retreats and private sessions with cutting-edge practices that fit her grounded, expansive, soulful approach.
With over 22 years of clinical therapy experience working in treatment centers, community mental health clinics, and hospitals, this spiritual counselor has led hundreds of creative, inspiring experiences across the country. She has worked with thousands of women around the world privately, and in virtual retreats, and webinars sharing the wisdom teachings of Mary Magdalene.
Claire offers private & group retreats and 1:1 sessions at The Historic Balch Hotel, a boutique destination inn nestled in the rural hills of the Columbia River Gorge, Oregon, which she co-owns with her hotelier husband.
You can see more of Claire's offerings and free resources by going here
Jam Night with Josiah
Friday November 17, 6:30 - 9 p.m.
Join us for a monthly open acoustic jam in the parlor of the Balch with proprietor Josiah Dean and other local musicians. Fun, casual supportive environment.
Bring your favorite instrument and share the tunes. We'll even have extra percussion to play if you don't have yours.
Or just show up and enjoy dinner, a beer or wine and listen.
FREE (other than your food and beverage purchase)
Friday November 17, 6:30 - 9 p.m.
Art Parties
Indulge Your Creative Spirit
Express your creative spirit--art-making with a social twist. We'll paint, nibble, sip and play, under the expert guidance of local artist, art therapist and Balch Hotel co-owner, Claire Sierra, MA.
In December, we'll paint "Guadalupe" and celebrate the patron saint of the America's for the Feast Day of Guadalupe.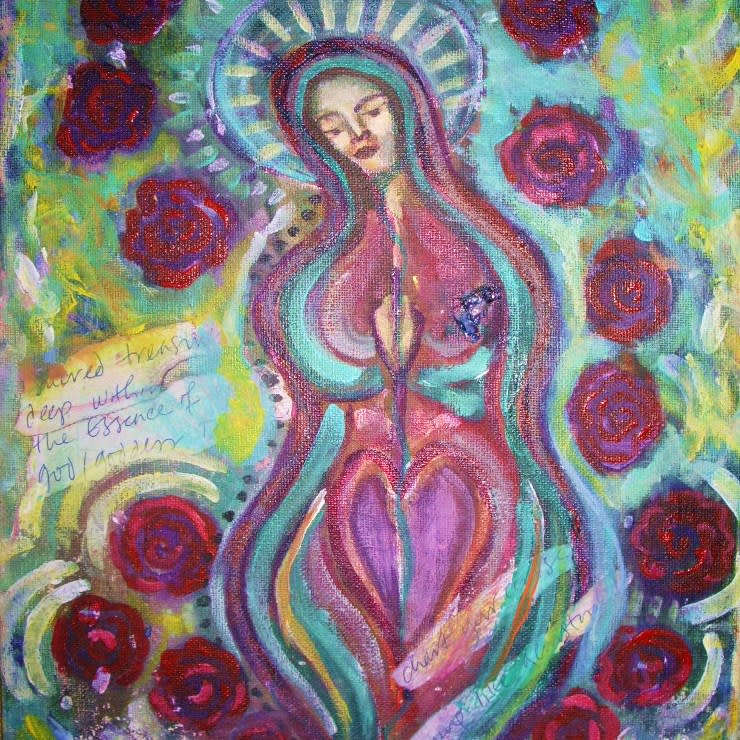 You'll be guided to create this image. Customize and experiment with (optional) mixed media techniques, too! This petite 12" x 15" piece will fit nicely in just about any space. Even makes a lovely gift!
Bring a date or come solo and meet friends here. Leave with your own original art work. Yummy food, local wine, beer and other beverages are also available for purchase (not included.) A fun, creative evening out. Absolutely no experience required. Everything you need is provided!
Spend the night at the Balch as the start of your own personal creativity retreat. (You can keep painting here all here weekend, you know.)
$40.00 includes all art supplies and instruction.
December 12
6:30 - 9 p.m. at the Historic Balch Hotel in Dufur, Oregon
To reserve a room, call 541.467.2277 or book online HERE
To see other Creative Spirits events around the Gorge, GO HERE
Claire has over 22 years experience facilitating creativity based retreats and workshops. Questions? Call Claire 541.659.7284 or email: Claire@MagdalenePath.com.
Sisterhood Supper
Women's Dinner Party
Do you crave more time out with a few girlfriends? Experience a new gathering space where women connect, laugh and have inspiring conversations that matter.
Feminine energy is a powerful positive force we're cultivating now.
Join our big table, order dinner, drink wine and savor dessert for a sweet time with new friends in sisterhood. Bring a friend or come alone.
Dinner available from our local/organic Light Fare menu (plus specials), along with local wine, beer, cider, and other beverages.
FREE (Dinner and drinks not included.)
Third Thursday every other month:
October 19, December 21, 6:30-9pm (Please, arrive/leave as your schedule allows)
AND RSVP, PLEASE!
CALL 541.467.2277
email: info@BalchHotel.com

Thanksgiving at the Balch
November 23
In a tumultuous year, it's important to lean back and see how much there is to be grateful for and what better time than this Thanksgiving—that holiday of gratitude! Holidays at the Balch are really special—low key, low tech, interactive and fun, not high pressure, high drama affairs.
Let us do the cooking AND clean up! We're offering our family-style feast again! Enjoy an elegantly simple traditional Thanksgiving feast, updated with artisanal flair—mostly organic and locally sourced.
Thanksgiving at the Balch includes walking the golden fields, lounging with a good book, playing games, sipping wine or beer, cozying up with your favorite locally sourced cuppa, doing puzzles, and bundling up for bocce or croquet on the lawn.
Its golden warm and sunny most days, with crisp evenings and mornings. We'll have a fire roaring on the patio (weather permitting) and the cozy parlor with Mount Hood view awaits your glass of wine or cuppa.
Make a weekend of it! We still have rooms available and we're offering a Fall Holiday Package: buy 2 nights get your 3rd night free! You can see and reserve your room here.
Enjoy a precious Thanksgiving traveling with your loved ones, or come solo. Either way you'll join our big tables--a family style gathering. It's an intimate, relaxed weekend of giving thanks.
As the menu develops please check back for updates. Go here for details: http://www.balchhotel.com/events#thanksgiving-at-the-balch
RESERVE YOUR SEAT: Call 541.467.2277
Menu:
Organic Winter Salad with Apple Vinegar dressing
Mary's Natural Turkeys: Cider-glazed or brown sugar & sage
Apple Sage Stuffing
Organic Roasted Root Vegetables
Roasted Brussels Sprouts with Garlic & Pine Nuts
With Cranberry Orange sauce, hand-made dinner rolls and house-made gravy
Desserts:
Apple Pie
Pumpkin Mousse with Ginger Snap crumbles
Wine, beer and cider pairing offered for additional purchase.
Thursday, November 23
$39 per person, gratuity not included.
RESERVE YOUR SEAT: Call 541.467.2277 or Purchase HERE
Dufur Hometown Christmas + Dinner
Old-Time Holiday Fun
Do you ever wish the holidays could go back to a slower simpler time, without so much hype and commercialization? Come to Dufur's village-wide holiday celebration. Experience our small-town classic Dufur Hometown Christmas, with the highlight: Lighted Tractor Parade, along with Holiday Craft Bazaar, visits (and photos) with Santa and more!
Sip hot holiday beverages as you stroll the streets of Dufur and enjoy winter cheer with friends and neighbors. Enjoy the Balch's special dinner offerings, along with board games, jigsaw puzzles, wine tasting and other small town treats.
Early in the day there's a Christmas craft bazaar, photos with Santa, and special seasonal treats offered at Kramer's Market and other spots in Dufur. Hear live music at the Balch around 2:30 and then have front row (balcony!) seats for the lighted tractor parade at 4:30 right out our front doors!
Enjoy a special 3 course prix fixe Prime Rib dinner. (Reservations required)
Relax with a warming spa treatment and enjoy the holiday season with friends, family and your favorite loved ones.
Reserve your room early, as this weekend is one not to miss and sells out. It's a great weekend to enjoy our buy 2 get 1 free holiday room special. See those details HERE
Friday December 8 through Sunday December 10
New Year's Eve 2017
Story Slam & Dinner
Do you have a story in you waiting to be told? We're continuing the Balch tradition of storytelling on New Year's Eve, ala The Moth Radio Hour. (Are you an NPR fan too?)
Anyone who wants to can tell a story. (It's low key and super fun!) Throw your name in the hat and share a story. This year's theme: "The Not-So-Great Tale of..."
First: meet and mingle in the lobby for appetizers and no-host wine/beer from our local list.
Then gather in the dining room for a fabulous 5 course feast. (see details below.)
Then we'll move to the parlor, where we'll play a fun simple warm up game and lounge with celebratory beverages. Then we'll share stories spun from gathered guests.
We'll savor dessert and a sparkling wine toast at Denver midnight.
Dinner Menu (subject to changes and additions)
Appetizer:
Salad: Organic Winter Greens with cranberry vinaigrette dressing
Soup:
Main: Prime Rib with wild rice pilaf and garlic roasted Brussels sprouts
Dessert: Chocolate Raspberry Trifle
$70 per person (gratuity not included.)
Sunday January 31, 7 pm.
Call 541.467.2277 to reserve a seat and your room. We're offering a "buy 2 get 1 free" Holiday Special to encourage you to spend the weekend with us at a great price. Not only are rooms reduced for the winter, but when you reserve 2 nights, you get the third night FREE! You can book that HERE