February 28, 2016
Top Ten Spring Adventures in Dufur
By: Josiah Dean

Notes from the Innkeepers
Considering winter is supposed to be the "slow season" it's been busy here at the Balch. Since the hotel was closed in past winters, we have nothing to compare to, but we've had guests most nights.
We just hosted and fed 60+ guests during 2 nights of Valentine's feasting that could be described as epic. While I admit a fondness for hyperbole, this was honestly the best soup and finest cut of meat I've ever tasted. The kumquat frisee—or "frizzy", as we called it ;) salad and smashed potatoes were divine (who knew bleu cheese is the trick?) and what needs to be said about chocolate mousse trifle with freshly dipped chocolate strawberries? It was all amazing.
We're so grateful for Kathy Watson's culinary wizardry and husband Stu's gracious tutelage in fine table service. And—the best part—we got to spend time with some very cool people, friends old and new (well, mostly new--we've only been here 7 months, after all.)
Spring is peeking up, flower buds are showing and the sun is out. Oh, not so where you are? This is the "sunny end of the Gorge," after all. It's a great time of year for tootling around wine tasting and the new Wine Tasting map is out from Columbia Gorge Winegrowers Association. We can make suggestions and create tasting tours for you, self-guided or tour-driven. Let us know.
It's also ideal weather and terrain for road, mountain and gravel biking, as well as motorcycle touring. Rainy where you are, but here it's mostly sunny, cool and dry. We've created some maps for road touring. And we can customize to fit your desired adventure. And then there's downhill skiing at Mt Hood Meadows along with groomed Nordic trails there and at Teacup Snow Park. Closer to home (45 minutes away) there's great cross country skiing, snowshoeing and snowmobiling at Billy Bob Snow Park.And while it's too cool now, it's not too soon to think about kayaking on the Deschutes, we have a great partnership with local river rafters and can get you a discount when you purchase through us.
So while we often say that coming here to the Balch you get to do "a whole lotta nothin'" (and we do encourage that, #DigitalDetox is uber important these days) it's hardly the case. We can keep you busy for a week, easy.
To make it easier to stay a bit and enjoy the region's bounty, AND as a way of thanking you for being a reader and friend, we're offering a special deal just for you: buy 1 night's stay and get ½ off the second night. Excluding other packages and specials, of course. We just want to say thanks. Use promo code "MarchNL" when booking online.
We hope to see you soon,
Claire and Josiah
P.S. Check out a whole passel of cool events we've got coming up this spring! We are so excited to see folks signing up already. Check it out below and at BalchHotel.com/events you'll get the whole scoop.

Events: Here and Near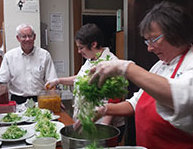 Balch Bounty: Super Saturday Supper Series for March:
Yup, we're at it again. Kathy Watson (formerly of Nora's Table in Hood River) has presented yet another fresh inventive menu, with suggested wine pairings, that we're sure will dazzle and delight your palate. Join us? Meal details are here. Call 541.467.2277 to reserve a seat. Saturday, March 19 at 6pm. $45 per person (psst: don't forget to reserve your room.
Planning Ahead:
Revitalize Your Practice ~ Rejuvenate Your Life and Bring Your Sexy Back!
A Women's Retreat with Claire Sierra, MA and Helen McConnell
Are you a spiritually aligned woman who's tired of struggling in your life and work the way it is?
You're working hard, but not getting where you thought you'd be—tired of feeling unfulfilled and getting so little reward/results. You know there's a different way. You've had glimpses, a connection to your Divine Feminine, but wonder how to keep it going.
Join us and discover how to:
Activate your Feminine Soul and bring it into balance with your masculine side.
Consistently connect to your deeper wisdom and power to fuel your inspired life.
Experience confidence and clarity about who you really are—and start to live from this place.
Get away and pamper yourself at a 2 day retreat in the Columbia Gorge, in the sacred space of The Balch Hotel. Gather with like-minded women and revitalize your juicy feminine essence, in a gorgeous retreat setting. Call 541.467.2277 or go here for more details. April 16 and 17
Ghost Town Tour and Workshop
Ghost towns draw the curious to explore the passage of time and the remnants that have survived today. Explore several in the Dufur area.
Join author and speaker Keith May for a fun weekend discovering and learning about six local ghost town locations. Includes reception, lectures/discussion, touring, dinner and more. See details here.
Call 541.467.2277 to reserve a spot in this unique exploration of the history of the area. April 29-31
Wildflowers and Wine Weekend
We're beyond excited to partner with Friends of the Columbia Gorge (link to hikes?)the area's premier conservation advocacy group, to create a memorable Play and Stay Weekend for you. Enjoy a exquisite opportunity to enjoy the floral gems of the Gorge led by local naturalists at exclusive locations not available to general public!
Experience 3 full days of hiking, wine tasting, picnic discussion and evening presentation activities. Exquisite dinner and yummy lunches provided. See more details here.
Call 541.467.2277 to reserve a spot. May 13-15
Geology Tour Exploring the Mid-Columbia Basin
Join us local geological expert Jason D. McClaughry for a fascinating weekend of touring and exploring the rich geology around Dufur and the Gorge. It's a unique region, and the dramatic rock landscape tells a complex story. Learn how rocks serve as maps and record keepers for society.
Amble by tour van from Dufur to Tygh Ridge and beyond. In addition to the day trips with picnic lunches, after a day in the field you'll return to the hotel for a great meal with presentations, Q&A and discussion with fellow guests. You'll gain a broader perspective on what makes the Gorge area so unique and spectacular. Plus, it's an excellent time of year for photos! This was a big hit last year. See more about the package details here.
Call 541.467.2277 or click here to book this fantastic weekend! 541-467-2277 | May 20-22