September 20, 2016
Rogue Farms Harvest – Taste & Tour Weekend
By: Josiah Dean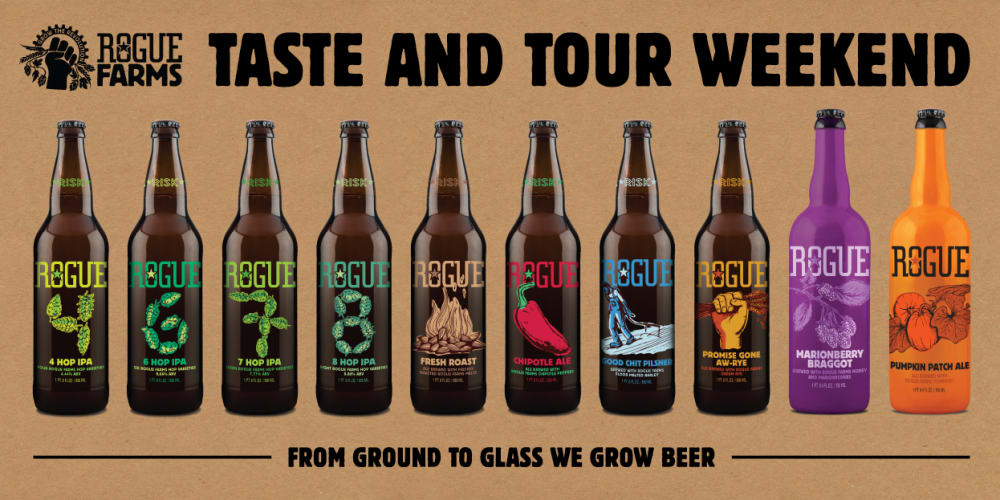 If you're a beer lover looking for something different than the usual micro-brewery visit, this Ground to Glass weekend is for you. As the Pacific Northwest is becoming known as Beervana, we're excited to offer a fun exploration of micro-brewed, locally sourced beer…a weekend event in partnership with Rogue Ales of Portland.
Start with a Friday evening tasting flight of Rogues' specialty IPA family as you nosh on appetizers, listen to live music, explore beer trivia and mingle with other beer aficionados.
Saturday, grab a box lunch and travel by Rogue Ale's van for a tour of Rogue's farm in Tygh Valley - where they grow the grains and fruits for their beer. (Maybe they'll have something to sample, too?!)
Saturday evening enjoy a 5-course tasting dinner prepared under the direction of culinary wizard Kathy Watson (formerly of Nora's Table in Hood River). You'll experience an exquisite menu specially prepared to pair with Rogue's fresh seasonal beers.
You'll taste dishes across a broad and distinguished palate, from Smoked salmon & potato sope, Duck confit in puff pastry with pear chutney & brie to Chicken in mole negro with black beans, chipotle slaw to Caramel Mocha cheese cake. And more! (See the menu details here: http://www.balchhotel.com/events#rogue-farms-harvest-taste-tour-weekend) Each with specially selected beer from the Rogue Harvest release.
Rogue Ales' beer maker will provide tasting notes and educate us through the evening on each beer chosen for the meal.
To see meal details, pricing and other event itinerary AND to register for some or all of these events, go to BalchHotel.com/events
October 14-16 This is a limited space weekend package so reserve your space today.
The weekend includes:
Two nights' accommodations at the Historic Balch Hotel (Oct. 14-15). You get a 10% discount on your rooms with this package!
Friday Night: welcome reception with beer tasting, appetizers and live music to get the weekend going.
Saturday: after breakfast we will provide a box lunch and you'll board a van for a quick ride to the Rogue Farm in nearby Tygh Valley. You will learn all about "how beer is grown."
Saturday night: enjoy a gourmet 5-course meal and beer pairing.
The price for the weekend is just $479 for two in a Traditional room or $591 for 2 in a Modern room. You get a 10% discount on your rooms with this package.
Ala Carte Options:
Beer Tasting Dinner: A limited number of seats are available for just the dinner and beer. They are $90 per person. You can call or book online on our Special Packages Page
(Other ala carte options are also available, call 541-467-2277 for details and to reserve.)
Join us October 14-16 at the Historic Balch Hotel in Dufur, OR. This is a small, exclusive dinner & tour package, so reserve your space today.