April 8, 2015
Our Engagement Story! - Sarah & Kris
By: Kent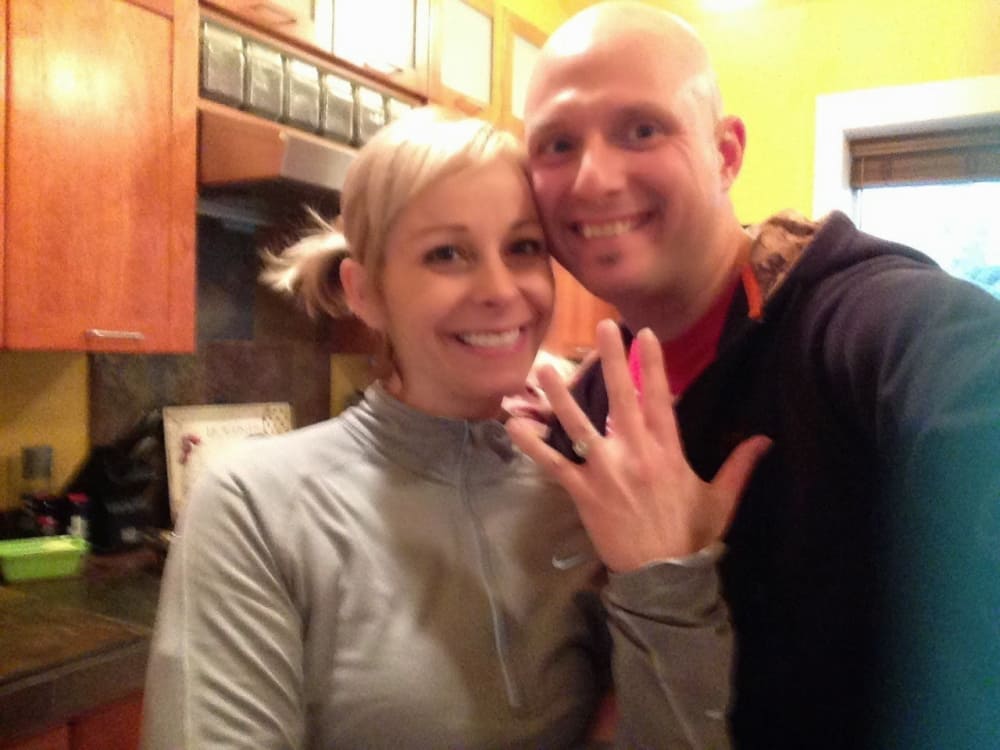 Bride name: Sarah Straus
Groom name: Kris Hedden
Where or how you met: We met at work. Sarah is an ER nurse, I am a paramedic. One day I came in to Portland Adventist ER, and saw her. She looked at me and smiled that smile that lights up her face and is SO infectious. We have been friends for years. Chatting on and off when I would drop off patients. One day, we went out as friends. Only to have fun and laugh. We both told each other at the time, the exact same thing: "I am not dating anyone, and this will not be a relationship other than friends." After many conversations, airing all dirty laundry that we had about our lives to scare off the other, a relationship developed.
How long we dated: 2 years
Cities you reside: Groom-Boring, OR. Bride-Clackamas, OR
Our proposal story (Kris): I knew this relationship was what I have always been looking for. Sarah is the total package. A year into the relationship, I knew I wanted to marry this woman. We were randomly looking at rings, one day, and found the perfect one. The next day, I bought it. I then asked, at different times, each of the kids permission. My boys were all on board with it, and said yes immediately. I took out Logan, while hunting, and told him my feelings for his mother. Not an easy task to tell a teenage boy your feelings of love for his mom. He looked me in the eye, and immediately said "yes, I want you to marry mom."
Molly was a different story, all together. For a small, 11 year old, asking her was like trying to climb Mt Hood with scuba gear! I sat down to talk to her and became completely tongue tied. So, I blurted it out. And it was a disaster. At the end, I said that she could think about it. As I thought about it, I decided to write her a letter, explaining what I couldn't say in person. It sparked a correspondence with her that led to her giving me permission to ask Sarah to marry me. After getting the kids permission, asking for her dad's blessing was easy!
The kids all had input as to how to propose. But, ultimately, I planned everything over the course of several months. I arranged with her work, with her friends to get the day off. The night before, I saw her at work after dropping off a patient. I asked her, what she was doing the next day, and she said "I'm working". I said with a huge smile on my face "no, you're not. Pack an overnight bag. We are going on a trip." Sarah didn't believe me, and after multiple texts to many people, she confirmed that she was indeed off work.
I picked her up at 04:00 am, and whisked her off to the airport. The whole time, she continually asked where we were going. I said "you are on a need to know basis, and right now you don't need to know". I picked up the airplane tickets at the counter and said, "let's go to San Francisco!" Off we went. When we arrived, we checked into the hotel, and I gave her the first of a couple gifts. As she opened the first one, I said "this is to wear on our fancy dinner date tonight at 5pm." The dress was amazing, but not quite what she was comfortable to wear. There was a Ross dress for less across the street, and we got a dress that she was more comfortable in, and also looked stunning. The shoes that she then opened from me, were amazing, and fit perfectly.
We then went to Fisherman's wharf and had a chocolate sundae at Ghiradeli and took the cable car back to the hotel. We changed, and went to dinner at The Top of the Mark. We enjoyed a five star dinner and the view on top of the hotel in knob hill. After dinner, we decided to have dessert at a local jazz bar, and enjoyed hours of conversation and music. When we left, the skies opened up and a downpour happened! We ran the block to the hotel. When we got to the room, Sarah looked at me, and asked to dance. I said " I would love to" and we danced for hours, just enjoying the music and each other. When the song "marry me" by Jason Derulo came on, emotion overtook me. I looked into Sarah's eyes, and with tears in mine, I said "marry me." She said "stop it. You're being goofy!"
I had the ring in a box of chocolates. I had planned to give it to her at Bubba Gump's the next day, but decided the time was right. I grabbed the box out of my bag, dropped the box under the bed, and got the box from under the bed. I opened the box, got down on my knees, looked up at her and said, "I have been looking for you my whole life. You make me strive to be a better person, as I hope I do for you. Sarah Lynn Straus, will you marry me?" Her hands went to her cheeks, her eyes welled up, and she said "it's about time you asked me! Yes!" We hugged and kissed and danced until her phone ran out of power and the music stopped.
Our proposal story (Sarah): Kris and I had been shopping for rings and I was 100% sure he had that ring hidden in a locked, "Sarah proof" box. On November 29th he told me I wasn't working and to pack a bag for my Christmas present. Of course I didn't believe that was leaving somewhere in 6 hours because that would mean he talked to my boss and others to take care of my kids and pets. Needless to say, he pays attention to detail beyond my mind can fathom.
November 30th, we flew out to San Francisco on about 2 hours of sleep. Enjoyed a day filled with laughter, Ghirradeli chocolate sundaes, trolley hopping and shopping. I was surprised with a black dress, shoes and necklace awaiting for me at the hotel. Got myself beautified best I could for a romantic dinner out! Which still, never crossed my mind that this would be the night he'd propose. After eating dinner and walking in the pouring down rain in 3 inch stilettos, we stopped to listen jazz music while eating dessert. Little did I know... My kids were texting Kris the whole evening asking if he'd popped the question yet.
We finally ran... Again in the rain... Back to our hotel. Miraculously I didn't break my ankle in my stilettos since I never wear anything higher than my Dansko's. Back in our room, we danced and just talked about our lives together the past two years. All we had endured, challenges and joy that had made us strong and affirming we belonged together. Still... Nothing seemed out of the ordinary for us. Until, when a song "marry me" came on our play list. He suddenly had a different look on his face. One I didn't recognize. He said " marry me" I laughed responding with "oh whatever".... He again smiled with his eyes damp and said "No really... Marry me Sarah Straus". He then backed away, pulled out a wrapped box from his back pack. My heart stopped. I realized he was yanking my chain. He got down on one knee, dropped the box. I laughed thinking how hilarious this man is and hurry up already. After him saying several things to pull at my heart string, I said yes. After about 15 minutes of dancing and me processing things, I burst into tears. We called our kids, family and friends who were overjoyed.
Thing you most adore about her: her thoughtfulness, silliness, openness to do anything that is fun!
Thing you most adore about him: he's romantic, adores my kids, pays attention to detail, affectionate, smile, silly, his laugh is contagious.
Why did we choose the Balch hotel: randomly, two years ago, we found a groupon for the Balch and we went for a getaway. We love the style, the atmosphere, the simplicity, and Samantha, and the breakfast! Simply put, what don't we love? :)