October 5, 2017
Open Road Leads to Autumn Adventures in the Gorge
By: Josiah Dean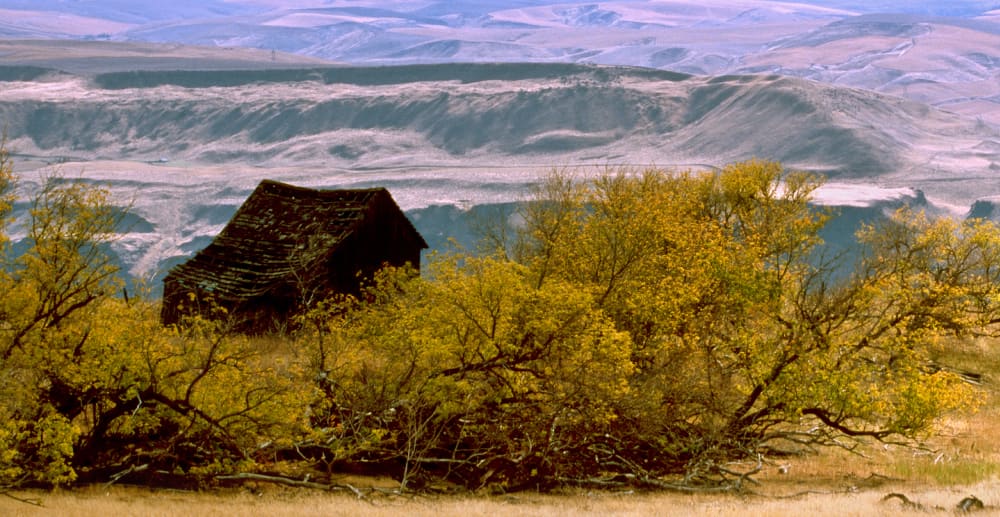 Fabulous Fall Felicitations,
It's official, the smoke is gone, warm golden days with crisp clear nights have arrived. And we are thrilled that roads are open again. Autumn is finally here.
We're still getting so many inquiries and confusion about road closures and the fire: I-84 is open in both directions (yay!) and it is NOT SMOKY. We thought everyone got the news, but 2 days ago we had a group cancel due to this mis-information. ☹ So, we repeat: I-84 is open, and the fire is not raging out of control—there is no danger. The fire is being reported at 46% contained because there are parts of the fire that are burning in steep wilderness and the Forest Service is letting the fire take its natural course.
Other options, like taking Forest Service Road 44 from Mount Hood (off of Highways 26 and 35) or Washington's Hwy 14 are leisurely meandering options (here's the link to directions from PDX). It's the same distance but takes a tad longer, but totally scenic, easy and gorgeous. (All other directions and routes are open as usual.)
Reading news reports you'd think the whole Gorge is burned, and it is not. While the wildfire in the western Gorge has impacted us all—the east end of the Gorge is totally untouched. Here it's pristine, sunny, dry as always. Not to diminish that damage, but to highlight: the gorge you love is still here, waiting to be reclaimed.
The Balch is safe. (We were never in any danger, being 40 or so miles away from the dreadful fire near Cascade Locks far to our west.) We've had clear sunny skies, no smoke, and the days have been bright and warm—simply perfect.
While the fires have not directly impacted us, area businesses (including ours) have been greatly affected by the 3-week closure of the Interstate. (Now re-opened in both directions.) Right now, patronizing our local businesses and other Gorge communities is a great way for people to support the Gorge. For more ideas on how to show the Gorge some love, both in person and from afar, go here. Realize that so much of the Gorge is well and intact—the east end is untouched.
We know the Gorge will rebound, and that nature will do its amazing work at restoring itself. In the east end, there will be a new landscape for us to explore in the future, with new views and perspectives.
If you were still considering joining our Fall getaway package: Foliage & Fall Wines that we're doing with Friends of the Columbia Gorge, on October 6-8, think again. Since Spring's Wildflowers & Wine: Play & Stay is such a big hit, we added an Autumn version, and it sold out.
You can still visit on your own, and enjoy the vineyards during harvest and leaf-peeping season—a really special treat, especially when the weather is so spectacular through November. Go on hikes that take in foliage vistas and local color. We can direct you to a few primo wine-tasting experiences, even provide you with prepared lunches, specialty dinners and evening activities.
And there remain a myriad of ways to enjoy fall in and around the Balch. Autumn visitors will be treated to fall colors, incredible bounty, and the chance to experience fun harvest festivals. Fall is also a perfect time to explore the area's museums, wineries and historic downtowns.
So, if you're curious and just want to check out your favorite spots around the Gorge, it's a great time to visit. And we appreciate the support!! We've all been really hit hard by the lack of travel here, so we really appreciate you spending your time here.
Once you arrive you can take a short walk, nibble some of our dinner specials, lounge around in the parlor or out in a hammock as you gaze at Mount Hood. Dinners are always changing and spa services await you too. Join us!
Either way, we hope to see you soon. We like it when you're here 😉.

Claire, Josiah & Team Balch
P.S. It's hard to believe it's that time of year, but we're already getting calls for holiday parties. Are you charged with creating the Holiday Office Party this year Christmas season? While theBalch is all dressed up in her seasonal regalia, it's a lovely time for a party! Consider borrowing our setting and enjoy a custom-catered meal with your family, business, or club. We still have several open dates with holiday party packages available for a distinctive event at theBalch Hotel. Call 541.467.2277 or email info@BalchHotel.com to discuss your desire and see what we can create for you.
---
Events: Here
Jam with Josiah
Join us for a monthly open acoustic jam in the parlor of the Balch with proprietor Josiah Dean, and other local musicians.
Bring your favorite instrument and share tunes for everyone to play along. We'll have extra percussion to play if you want to jump in and help keep the beat. It's a fun, casual, supportive environment.
Or just show up and listen as you enjoy dinner, a beer or glass of wine or dessert. FREE (other than your food and beverage purchase) Friday, October 13, 7 - 9 p.m.
Sisterhood Supper ~ Women's Dinner Party
Experience a space to connect, laugh and have inspiring conversations with other women. Bask in Feminine energy for rejuvenation. Join our big table, order dinner, drink wine and savor dessert for a sweet time. Bring a friend or come solo and meet new friends.
October 19, December 21 (Winter Solstice!) 6:30*-9pm
(*NOTE TIME CHANGE, but arrive/leave as your schedule allows) No cost, but call 541.467.2277 or email info@BalchHotel.com to RSVP, PLEASE!
Columbia Gorge Fiber Fest:
Come, lovers of all things wooly: workshops and circles for knitting, crochet, spinning, weaving, & felting. A bevy of classes with teachers from around the region are offered, along with a stellar wool works marketplace (free to the public.) Stay at the Balch and receive a 10% discount, plus complimentary wine & cheese reception Friday and Thursday evening knit/spin-in. Call 541.467.227 or book online (Mention you're with CGFF when reserving or checking in. Not valid with other offers.) Register for CGFF classes and more HERE. The Dalles Armory, October 27-29
---
Plan Ahead:
Holiday Parties
Are you in charge of creating the Christmas Office Party this year? Consider borrowing our setting: elegant Christmas décor, custom-catered meal and fanciful culinary pleasures for your family, club or business party. We're starting to get requests and still have several open dates and holiday party packages available that can fit your needs. Enjoy a gathering of your best and brightest during this gracious time of year at the Balch Hotel. Call 541.467.2277 or email info@BalchHotel.com to discuss your needs and see what we can create for you.
Thanksgiving at the Balch
Why cook? Enjoy an intimate, relaxed weekend of Gratitude with your loved ones, or fly solo and hang with us. Walk the golden fields, lounge with a good book, play games, sip wine or beer from our new bar, cozy up with your favorite locally sourced cuppa, do puzzles, and play bocce or croquet on the lawn.
Enjoy an elegantly traditional Thanksgiving feast—mostly organic, locally sourced and updated with artisanal flair. Our tentative menu includes: cider glazed turkey, winter salad, roasted root vegetables, stuffed delicata squash, garlic Brussels sprouts, handmade pie, and a few surprises. With suggested wine, beer and cider pairings from our locally sourced list. $39 per person (gratuity not included.) Thursday November 23
Dufur Home Town Christmas
Experience our small-town holiday classic and join in the seasonal cheer. Early in the day on Saturday, there's a Christmas craft bazaar, photos with Santa, and special seasonal treats offered at Kramer's Market and other spots around our village. Hear live music at the Balch around 2:30 and then have front row viewing on our front steps for the iconic Lighted Tractor Parade around 4:30! Take advantage of our 3 for 2 holiday room special. Reserve rooms early directly with us, This weekend is one not to miss and sells out. December 8-10
Creative Spirits Art Party at the Balch
Indulge your Inner Artist as you paint a sweet small painting of Guadalupe, as we celebrate the Sacred Feminine and the Feast Day of Virgen de Guadelupe. Paint, nibble, sip and play, under the expert guidance of local artist/art therapist & Balch Hotel co-owner, Claire Sierra, MA.
Absolutely no experience necessary. Everything you need is provided! You'll customize it to fit your style, with optional mixed media techniques, too! Light fare, local wine & beer, available for purchase. Great for date night or girlfriend getaway. Details at www.BalchHotel.com/events
**Spend the night to make it the start of your own personal creativity retreat. Call or reserve a room directly $40.00 Includes all art supplies & instruction. REGISTER HERE Tuesday December 12, 6:30-9pm
Sisterhood Supper ~ Women's Dinner Party
Experience a new space to connect, laugh and have inspiring conversations with other women. Bask in Feminine energy for rejuvenation. Join our big table, order dinner, drink wine and savor dessert for a sweet time. Bring a friend or come solo.
December 21 (Winter Solstice!) 6:30*-9pm
(*NOTE TIME CHANGE, but arrive/leave as your schedule allows) FREE, but call 541.467.2277 or email info@BalchHotel.com to RSVP, PLEASE!
Christmas at the Balch
Enjoy the Balch at our best: elegant, and dressed up in holiday finery, but still cozy, casual. Recharge and reconnect in a kinder, gentler setting. Join us for a cheering winter holiday with a special getaway package.*
Walk the frosty fields, lounge with a good book, put together a puzzle, sip wine and tea, and mingle with new friends just met.
See details still being developed here:
BalchHotel.com/events. Dinner: $39 With Christmas holiday falling on Monday, dinner will be on Christmas Eve, December 24 Go here for updated info
*Holiday Getaway Package: Stay 2 nights, get the 3rd night free. (Not valid with other offer.) Call or book directly to get this special deal.
New Year's Eve 2017: Dinner & Story Slam at the Balch
Getaway to rejuvenate and reconnect after a long and perhaps trying year. Use the time to reflect on where you've been and where you're headed. Write, draw, paint, read, snowshow, hike. With the holiday falling on a Monday, we're offering a special getaway package, so you can stay longer. It's a great deal.*
Join us for New Year's Eve. We're continuing the Balch tradition of storytelling ala The Moth Radio Hour. (Are you an NPR fan too?) Do you have a story in you waiting to be told? Anyone who has a story or poem to share is welcome to participate. (It's low key and super fun!) This year's theme: "The Great Tale of …."
But first: meet and mingle in the lobby for appetizers and no-host wine/beer from our locally sources wine list. Then move to the dining room for a fabulous 3 course Prime Rib dinner. (See menu in process here). After dinner, we'll gather in the parlor to,b> listen to stories spun from gathered guests. Finally, savor dessert and a sparkling wine toast (all included) as close to midnight as we care to. All this food, fun and frivolity: $70 per person (gratuity not included.) See more details here: Call 541.467.2277 to reserve your seat and room. Saturday, December 31.
*Holiday Getaway Package: Stay 2 nights, get the 3rd night free. (Not valid with other offer.) Call or book directly to get this special deal.
Saturday, December 2, 9 am - 5 pm