September 1, 2017
New Season, New Autumn Adventures
By: Josiah Dean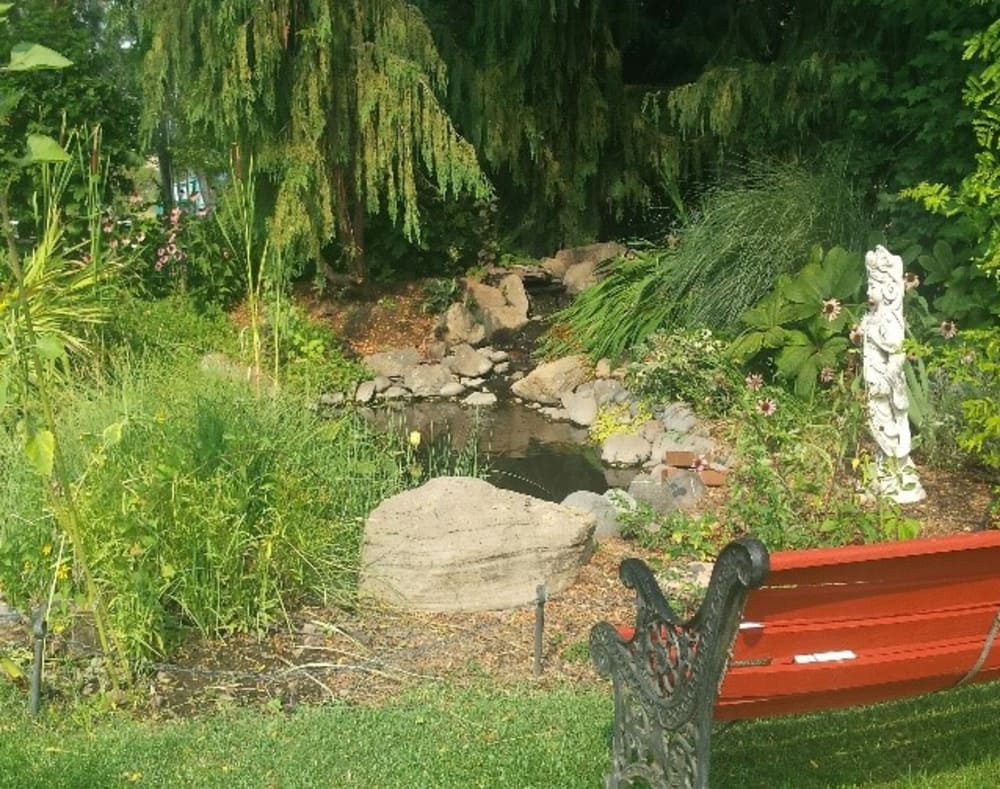 Wow, Summer is past with Labor Day. How did that happen?
It's been a whirlwind as summer often is, with weddings, anniversaries, birthdays, company barbeques, and celebrations of life. Each night, dinner on the patio is a big hit (and indoors, too!) Summer concerts, jam nights, Sisterhood Suppers… various ways to relax and enjoy the bounty of goodness that surrounds us.
We were full for days with the pre and post eclipse travelers—so hyped in this area due to the proximity to the Path of Totality, that we called it the apoc-eclipse. Like many things we plan for and worry about, not much went wrong. Everyone noted a high vibration and an incredible experience.
Several of us spent it near the pond, (see above) in a quiet meditative ritual to soak in this very powerful event. Days later we're still reeling from it.
And…Fall! What adventures lie ahead. We know you tend to come to us for 2 reasons: to do things (like hiking, fishing, rafting, wine-tasting, antiquing) or to do nothing. Read a book, lounge around, get a spa treatment. Rest and recuperate.
Since we've always got the do-no-thing thing covered here pretty well, we've been putting together activities and learning adventures for those who like to "do stuff". Some are evening experiences, some are weekend-long. Something for everyone?
We're excited to announce a fall getaway package, Foliage & Fall Wines—in partnership with Friends of the Columbia Gorge. Guests at the Spring Wildflowers & Wine: Play & Stay Weekend loved it so much we decided to add an Autumn version, exploring the vineyards around harvest and leaf-peeping season, since the weather is so spectacular in October. You'll experience hikes that take in foliage vistas and local color, paired with a few extraordinary (exclusive, actually) wine-tasting experiences, prepared lunches, specialty dinners and evening activities. We just opened registration, take a peek here.
We're also excited about another partnership, a wine adventure of another type: Winemakers Dinner with local favorite, 15Mile Winery, in nearby Boyd. Winemaker Coulter Bolton is a 3rd generation Dufur Valley farmer and his wines are well-loved in our dining room. A 5 course feast on September 30 will be paired with his wines, which he'll provide commentary on as you move through the meal. See more here.
Then, we'll have another Creative Spirits Art Party for those who want to stir their creative juices! Next one is Thursday, September 21. And that weekend, September 22-24 is Tygh Valley Bluegrass Jam. If you like intimate, old time, no hype, pickin' and jammin' of traditional Bluegrass, you'll love this event. Many people camp but it's chilly this time of year, so why not have a warm cozy bed, warm shower and hot coffee and breakfast to start your day? Or, sleep on the cold hard ground. Your call. 😉
And if you're wild and wooly, the Columbia Gorge Fiber Fest is on October 27-29. We're offering a 10% room discount, wine/cheese reception and a Crafter Circle for attendees. It's a great combination: high energy knitting, spinning and wool-works in the day. Mellow relaxation at the Balch to recharge and be ready for more fiber fun the next day.
If all that seems like just too much and you want to sit in a hammock or gaze at Mount Hood, just do that. You don't need a lot of bells and whistles (or a national celestial event) to have a great time here. Dinners are happening, as well as spa services and the stars are clear and bright. Join us!
Either way, we hope to see you soon. We like it when you're here 😉.
Claire, Josiah & all of us at Team Balch
P.S. If these events and experiences aren't your thing, and you don't know what you'd do for 2 or 3 days at the Balch, check out our Top 10 Things to Do in Dufur. There's a ton of cool stuff nearby!