December 1, 2016
Feeling Alone? Get Real and Connected
By: Josiah Dean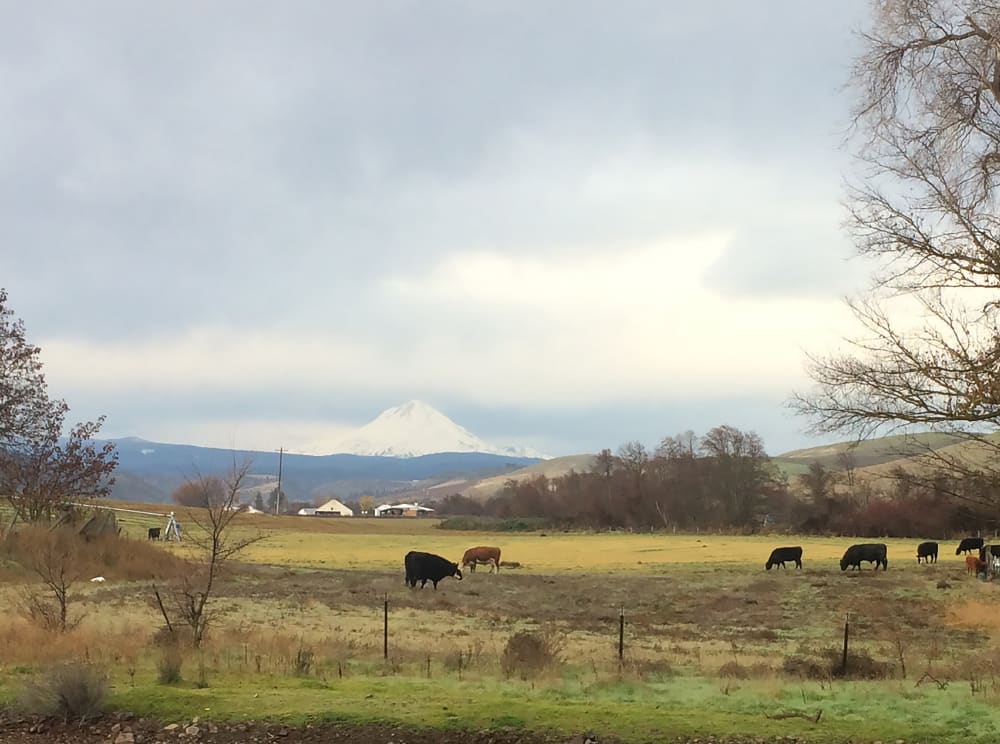 Unplug & Connect Series: Part 6
It's December already. How did that happen? And with it, the holidays always bring up memories and emotions: some good, some difficult. This year especially, people seem worn-out, tentative.
More than ever we need times of rejuvenation and places of refuge. We're really fortunate here in the Gorge to be surrounded by supportive neighbors—regardless of beliefs and preferences, we're for each other. That's a blessing.
During this time of year, we're often reminded of friends and family near or far that we've lost touch with. Connections that seem frayed are highlighted. Especially lately, it can be tender.
And in our fast-paced, uber-connected lives, using social media and email can be swift easy ways to connect. Sometimes it's a convenient way to stay in contact with a loved one far away.
Is it facilitating real relationship or not?
Sometimes it does, but our electronic devices can create an illusion of connection. The danger is that they also set up a new way of relating in which we are in touch (often more frequently)— but detached emotionally.
When's the last time you got a letter or an unexpected phone call? It feels different—pretty special. Rarer all the time. But it doesn't have to be.
We love the holidays because guests take time to cozy up, relax and stay a while. Read books curled in a big leather chair with a blanket. Do an entire puzzle. Take walks on a country lane. Sip wine, tea and nibble one too many chocolate chip cookies. ("But they're so good…")
Our social media connections can't measure up like that. Reducing relationships to smileys and heart "emoticons" then become the accepted norm. One thing that our gadgets cannot do — despite the future presented in movies like Her — is communicate the texture of emotion; they offer a counterfeit performance that imitates connection.
Distraction on our devices hampers our ability to be present. "We become accustomed to the simplified, the superficial, the sensational; we turn to the endless stories of celebrity relationships and online dramas rather than engaging in our own," says Sue Johnson (Wired, How Gadgets Ruin Relationships and Corrupt Emotions)
Opportunities to engage and care for another person becomes diminished with constant electronics usage. Unlike sitting around a fire, sipping hot cocoa, roasting marshmallows. Or taking an aromatherapy infused bath in a clawfoot tub.
As political scientist Robert Putnam notes in Bowling Alone, "Good socialization is a prerequisite for life online, not an effect of it: without a real world counterpart, Internet contact gets ranty, dishonest, and weird." We've seen that in the past few months more than ever.
And now, more than at any time in human history, many people live alone. In 1950, only four million lived on their own in the United States; in 2012, more than 30 million did. That's 28 percent of households. Our need to connect in a very individualized society appears enhanced but is often thwarted by technology.
"People want real experience and time to connect. We see a trend towards places like The Balch," guests Cathie and Duff told us on Saturday as they relaxed in the library. That's why they were here.
This phenomenon is not just about connection and relationship between two people, but also in our "tribes". The Balch Hotel has been hosting writing, art and poetry workshops, car clubs, cycling and motorcycle groups, yoga and women's retreats, anniversaries, birthdays, and family reunions. People with shared interests, strangers that become friends, if just for the moment.
To aid in the need for connection, The Balch Hotel, located in Dufur, where the Columbia River Gorge meets Oregon's High Desert, is sponsoring a contest called, "Unplug & Connect." Satisfy your need for unplugging with your partner or tribe. Just share the reason you need to #Unplug&Connect here on our Facebook Page and you could win a getaway at the hotel.
Speaking of which…did we mention the new bar?
Come see us over the holiday—we've got some fun stuff happening,
Claire and Josiah
P.S. In case you're worried that we're just doing retreats, we're having lots of other events for men, women, couples or singles. If you'd like to host a co-ed or men's workshop or event, contact us!
---
Events: Here
Paint & Pinot at the Balch
Men and women are loving this fun evening of creative expression, with a social twist. Come for a date night, with a friend or solo! We'll paint, nibble, sip and play, under the expert guidance of local artist, Nina Buckley. Absolutely no experience required!
Dine from our locally sourced menu, local wine/beer and other beverages (not included.) For registration or more info:
www.artontheriver.events $40.00
See details at BalchHotel.com/events Friday December 9 at 6:30
Dufur Hometown Christmas
Experience our small-town classic Dufur Hometown Christmas. Early in the day there's a Christmas craft bazaar, photos with Santa, and special seasonal treats offered at Kramer's Market and other spots in Dufur. Hear live music at the Balch by the Dufur Boys at 2:30 and then have front row (balcony!) seats for the lighted tractor parade at 4:30 right out our front doors! Reserve rooms early (link) this weekend is one not to miss and sells out. December 9 & 10
Sisterhood Supper: Women's Dinner Party
Do you love dinner out with a few girlfriends? How rare is it? Our monthly dinner is a new space for women to connect, laugh and have inspiring conversations. Dinner offering will be our usual local/organic Light Fare menu (plus specials), along with local wine, beer, cider, and other beverages.
Join a big table, order dinner, drink wine, savor dessert as you meet new women or get to know girlfriends better. Pure femme fun. Bring a friend or come alone. FREE (Dinner and drinks not included)
Third Thursday of the month: December 15, 6-9pm (Arrive/leave as your schedule allows)
Christmas at the Balch
Why cook? Join us for a cozy winter holiday. Walk the frosty fields, lounge with a good book, play games, sip wine and tea, and mingle with friends just met. sip wine or beer from our new bar, cozy up with your favorite locally sourced cuppa, do puzzles.

Enjoy a wine and cheese Innkeepers reception, then an elegantly simple Christmas feast, updated with artisanal flair. Mostly locally sourced. Our tentative menu includes: sage and tarragon encrusted ham glazed with porter mustard, OR cranberry glazed grilled Salmon, wild rice with roasted pecans, roasted winter squash, Organic winter greens salad, Dark Chocolate Mousse. Mmmm. Suggested wine pairings available. (gratuity not included.) Go here for updated details (Link to BalchHotel.com/events) Sunday December 25 Go here for updated details

New Years' Eve
New Year's Eve 2015: Dinner and Story Slam at the Balch. Do you have a story in you waiting to be told? We're picking up a Balch tradition of storytelling on New Year's Eve, ala The Moth Radio Hour. (Are you an NPR fan too?) Anyone who wants to tell a story can participate. (It's low key and super fun!) This year's theme: "Never Thought It Would Turn Out This Way."
But first: meet and mingle in the lobby and at the new bar (!) for appetizers and no-host wine/beer from our local list. Then we'll move to the dining room for a fabulous 3 course feast. (Menu on its way, but we know it will be yum!). We'll play a fun simple warm up game. Then we'll move to the parlor, where we'll lounge with celebratory beverages and listen to stories spun from gathered guests. We'll vote on the best one (Prizes?! Wait and see.) We'll savor dessert and a sparkling wine toast as close to midnight as we can muster. Last year we voted and toasted at 11:20! $65 per person (gratuity not included.) See more details here: Call 541.467.2277 to reserve your seat and room. Saturday, December 31.
Awaken Feminine Soul Power & Live Your Divine Purpose: A Magdalene Path Retreat with Claire Sierra, MA, LFT—RESCHEDULED TO WINTER 2017. Details soon
Are you ready for a change, but can't see your next step yet?
Are you longing to have a stronger, clearer connection to your Soul Guidance?
Are you ready to experience your Divine Feminine essence consistently in your life?
Express your soul's voice, through art, meditation, and Listening to Spirit—a guided journaling process that led to the writing of The Magdalene Path. Gather as a sacred circle of sisters to experience your Feminine Essence as who you really are.
You'll experience practices that will shift you and make way for more ease and joy, with less stress and struggle in your life. Learn to receive practical, useful guidance about any aspect of your life. Feel clear about your purpose so you can confidently live it on a daily basis.
Rescheduled to February 2017 Get more details and go here to Register.