January 29, 2016
6 Keys to a Healthier You
By: Josiah Dean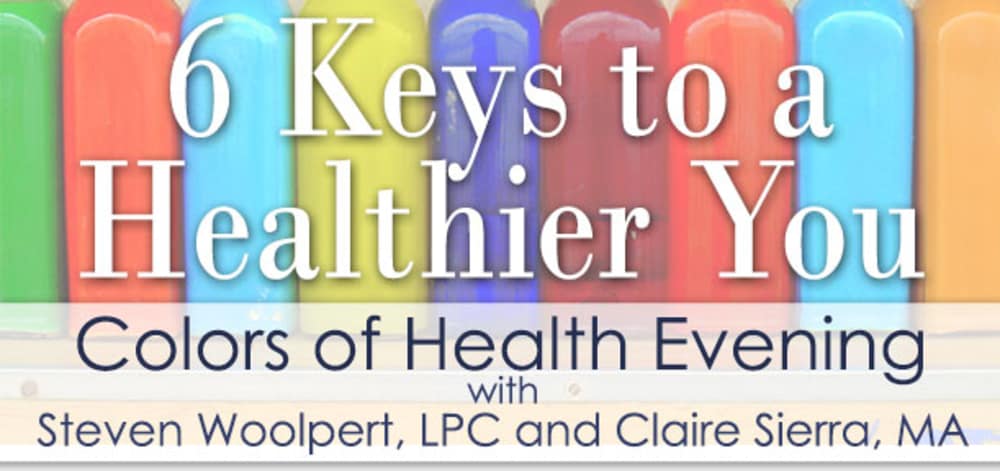 Are your habits getting in your way?
Overeating or imbalanced food choices
Limited physical activity or too much sitting
Staying up too late—often with TV or computer
Worrying too much, feeling stressed or down
As we get into our 40's, 50's & 60's our lifestyle choices significantly affect how we feel and function. The consequences of our habits start to show up as aches & pains, insomnia, down moods, high blood pressure, or difficulty breathing....
At a certain point we realize we have to do something.... Discover how to create new habits for better self-care.
In this introductory evening you will:
Discover your top 3 life/health values— knowing these make change easier.
Learn 6 key health factors that guide and empower you to feel better.
Start a plan to develop new positive habits.
Identify specific practices you can start right away—without a major overhaul of your whole life.
This evening previews a 4 week Colors of Health class starting in March that will explore these ideas in depth, offering tools that support you in making the changes you need for a happy, healthy year.
Choose from two nights and locations: Thursday, February 11, 2016 from 6:15-8:30 pm at the Balch Hotel in Dufur, OR Thursday February 18, 2016 from 6:15-8:30 pm at the Lyle Hotel in Lyle, WA Each evening: $20 per person or $30 for 2 people. Call 541-400-8500 for more information and to register.