April 6, 2017
3 Days in the Sunny End of the Columbia River Gorge
By: Josiah Dean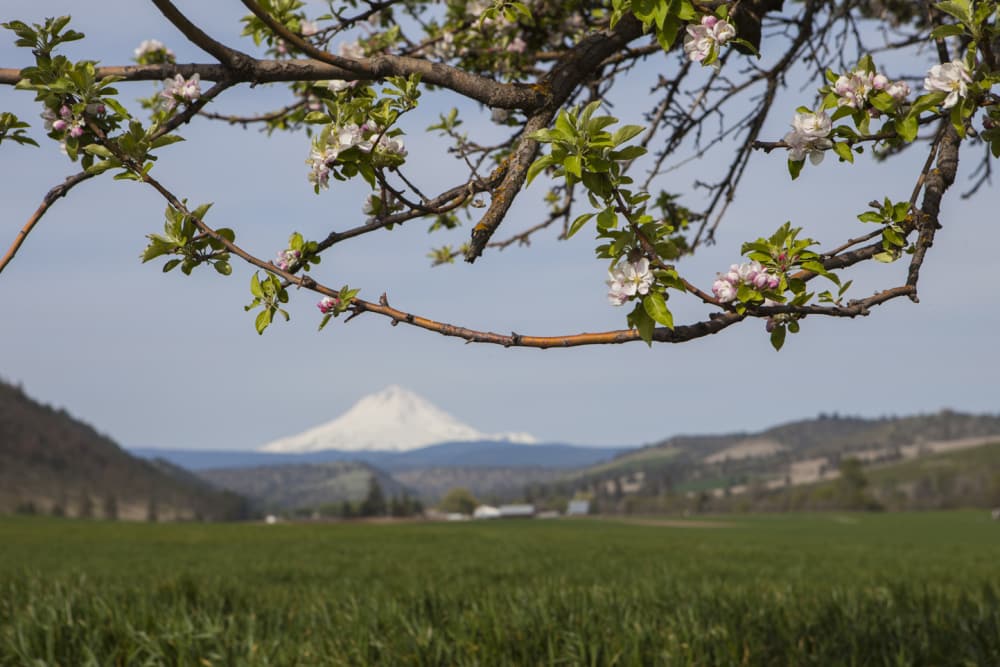 Ah Spring at last! Did you ever think we wouldn't make it? That it would never get there? I had my moments. Though we did love cross country skiing out the back door. Next year we're getting snowshoes to share with you.
It's been a busy spring here. Everyone is excited to finally get out! We're grateful to be a place you love to return to, a place of respite and refuge, to access clarity, rejuvenation and replenishment amidst the wide-open country around Dufur.
Speaking of Dufur I finally got a few moments to write an article that's been on my mind since arriving here. It's the answer to that iconic question "What's there to do in Dufur?" I've outlined the best things to do with three days in and around the Columbia River Gorge. Read that below.
A quick mention that we have a few spots left for Wildflowers and Wine, the Play and Stay weekend we developed with Friends of the Columbia Gorge at the end of April. Last year's participants all raved about this sold-out event. The unique locations for hiking and wine-tasting, and meeting other kindred nature lovers were well-loved. (see details here and register below.) And we've got Penelope Schott offering an exclusive poetry retreat in June.
For a totally opposite outdoor experience, the Oregon Trail Rally runs through Dufur on April 22. And check out Maryhill Museum and Maryhill Winery events (below), both offer an amazing array of events (see below) and they're only 30 minutes up the Gorge from us.
We're got a few evening events too: monthly Jam Nights with Josiah (our very own drummer), Creative Spirit Art Parties (monthly painting & creativity nights) Sisterhood Suppers (open dinners conversations with Claire & other women) (Read on below for details)
And we're reworking our menu and ramping up the restaurant. Stay tuned for more on that!
Hope to see you soon. We like it when you're here.
Claire, Josiah & all of Team Balch
P.S.We've been wanting to write the article below for a long time. So many ask: What's there to do in Dufur? Here's our answer. Please share in your world. It helps to spread the love.

What to Do in Dufur?
or
3 Days in the Sunny End of the Columbia River Gorge


Day 1:
Depending on when you leave (and where you're coming from!) you might want to skedaddle right to the Balch Hotel in Dufur. Thirteen miles off I-84 at The Dalles, it's a gorgeous short drive over rolling golden hills, with views of Mount Hood and Mount Adams that are stunning.
If you have time, stop in The Dalles for wine tasting: Sunshine Mill Winery, the former Cheez-It factory with an amazing vintage-industrial look and unique vibe.
If you don't stop for wine-tasting, no worries, when you arrive at the Balch Hotel there are local wines from these and 10 other wineries. You might be hungry by now, and the Balch often offers dining options beyond the Light Fare menu. It's mostly local, often organic, always seasonal, healthy and delicious. If the weather is nice you can sit at the Balch Hotel patio and sip wine or beer as the sun sets behind Mount Hood, across the field. It's restful and relaxing to gaze out at much of nothing. Hot afternoons you may prefer the lawn and hammocks out back where it's shaded by large pines.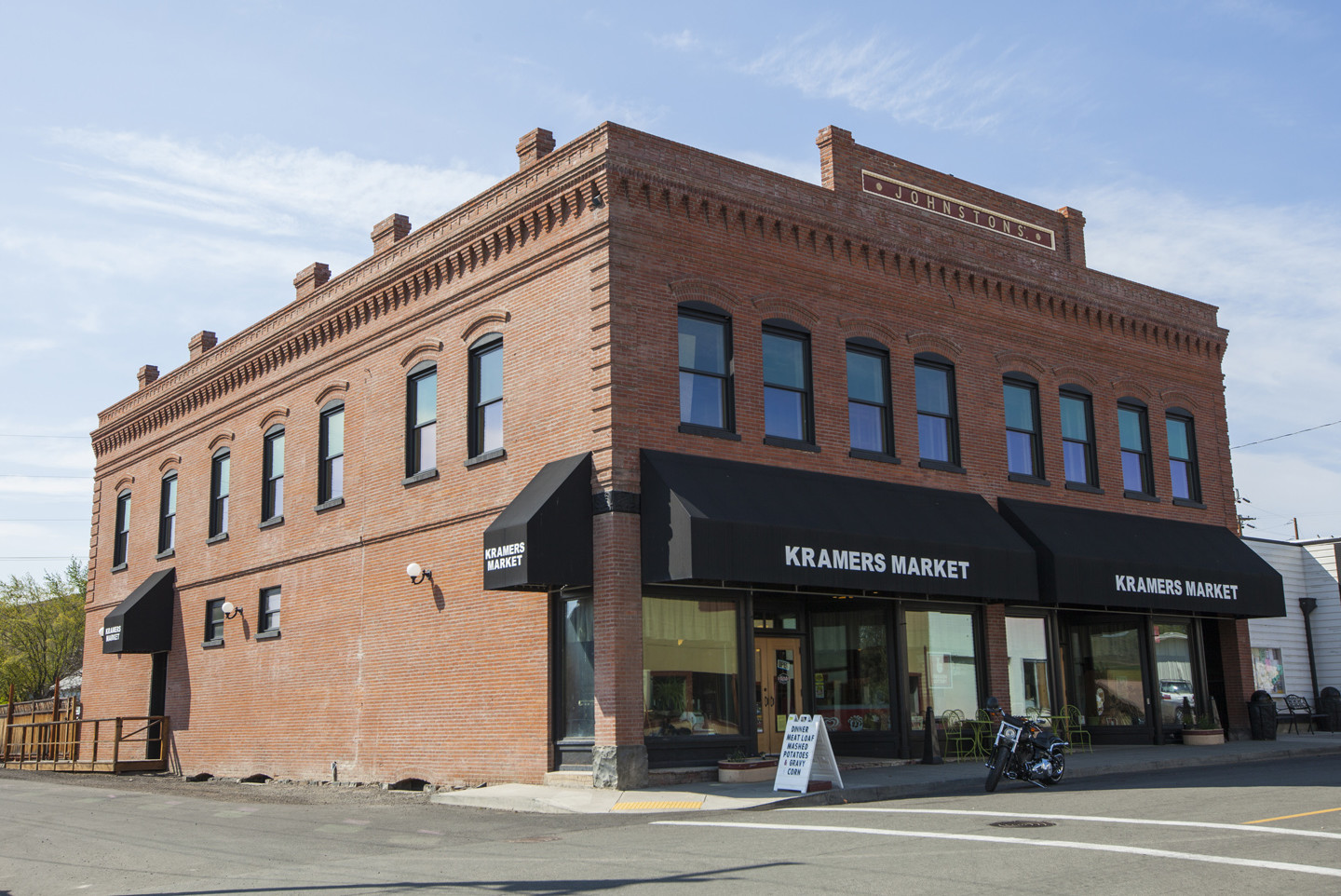 Or you can amble across the street to the country classic Pastime Saloon, for a more traditional bar fare experience. Or head to Kramer's Market, lovingly restored to its vintage charm; you'll find deli food and dinners nightly for takeout until 7 pm. Peek in the windows of the other storefronts—it's a curiosity.
In the warm glow of the evening, take a walk down the side street to the Dufur City Park, and visit the Story Stones, created by the Confluence Project with local artists, writers and children at the Dufur School. For more adventure, inquire about the short hike to the top of D Hill. It's a short but strenuous stroll with spectacular views of Dufur valley, Mounts Hood, Adams and (in clear weather) even Jefferson.
After your walk, you might find that with no TV's or phones at the hotel, you might chat with other guests. Or you might tuck in early, read a book from the library, or take advantage of the Wifi while lounging in the exquisitely comfy pillowtop beds. It's quiet except for the occasional tractor rolling by at "rush hour". (Earplugs and fans are available for the noise sensitive.)
Day 2:
Morning at the Balch Hotel starts with locally roasted coffee and Organic local artisan teas, then a lovely gourmet buffet breakfast. The menu varies but think bacon-cheddar crust less quiche, house-made organic granola with yogurt and fresh fruit, and freshly baked muffins. It's superb and custom made each morning by friendly and attentive staff.
Now that you're well provisioned, you're off. Here's where you have choices.
Are you an outdoorsy type? Or just need a hit of Mother Nature? If so, head west traveling up Dufur Valley Road (Forest Service Road 44) towards Mt Hood. There are a variety of things to do/see depending on the season: from hiking, fishing, (spring/summer/fall) to snow-shoeing, cross-country skiing and snowmobiling at Billy Bob Snow Park (winter). If it's not winter, you can continue to Mt Hood and lunch at the epic Timberline Lodge, then drive to Tamanawas Falls to hike along series of waterfalls, and then continue down to Hood River for winetasting, shopping, and to watch the kiteboarding.
Another outdoor option is to drive south from the Balch to White River Falls State Park, outside the tiny village of Tygh Valley. Hike a short bit to view a lovely 2 tier waterfall. For the adventurous, there's a rugged hiking trail down to the river. You'll pass the antique powerhouse that provided the original electricity shared by the Balch and Sunshine Mill in the early 1900's. Enjoy a box lunch at the picnic tables overlooking the top of the falls.
Continue south to Maupin for afternoon hiking, river rafting, or fly fishing along the Deschutes, or lunch at Riverside.
Head back to Dufur and grab an espresso and a bite to eat at We3 Coffee and Deli. If you're feeling done, head back to the Balch to read and relax on the patio or in the parlor with that book or magazine you grabbed from the library.
But if you're feeling adventurous, drive north on 197 and experience the sights and tastes of The Dalles. If the wind is calm, consider a session of stand up paddle boarding on the mighty Columbia with Amy from Float On SUP as your very able guide.
Next stop, explore the Columbia Gorge Discovery Center. This impressive museum was recently rated #12 of Top Fan Favorite Destinations in Oregon, it's cultural and natural history all in one spot. Learn about the local lore, indigenous culture, as well as the geological phenomena that make this area so spectacular.
After that, drop in on the wine-tasting rooms that you missed the day before. 15Mile and Moody Tollbridge are local wineries that have tasting rooms in The Dalles (open weekends) then grab lunch at Petite Provence. While you're downtown, check out Urban Paper, Red Wagon Antiques and Klindt's: the oldest (and coolest) bookstore in Oregon. Next door is Breezeway Antiques, full of neat finds at great prices. (Terry and Marti the owners are fun, too.)
If shopping is not your thing, or you just need a break, step next door to Route 30 Bottles and Brews, one of many new microbreweries and tap-rooms that have exploded into The Dalles last year.
Afterwards, head to the historic Baldwin Saloon for more elegant dining, or Freebridge Brewing for the best pizza and beer in town (they have wine and cider, too.) Nearby you'll also find Clocktower Ales, RiverTap, (both with outdoor seating) Liberty Tap Room, and Sedition Brewing.
Ready to return to your hotel? After a full day, you'll be glad for the short scenic drive up over the hills back to Dufur, with a glass of wine or beer in your cozy nook at the Balch.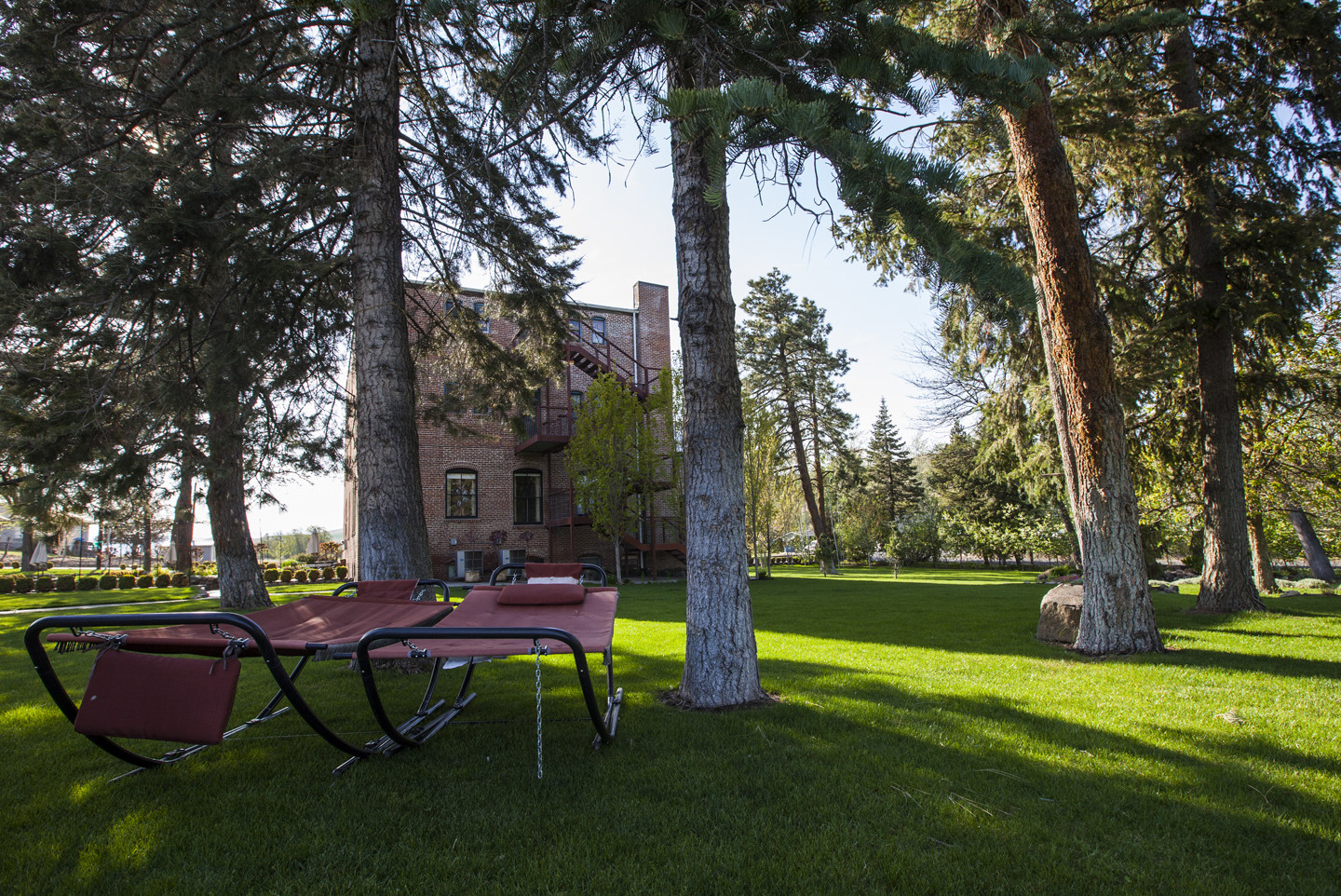 Day 3:
Next morning start with a morning meditation in the garden grounds as you sip coffee before breakfast is served. Then treat yourself to a rejuvenating wellness treatment. The Bliss at the Balch sessions are truly mini-healing retreats as well as spa services.
After a leisurely check-out, travel north, over the bridge to Washington and head east up the Gorge. The views are spectacular and there's easy hiking and petroglyphs at Horsethief State Park. Stop at Jacob Williams winery; if you're in the mood for more wine, the views from the tasting room are awesome–especially if it's inclement. Then drop into the world-class Maryhill Museum. Built in 1907 this Italianate mansion was intended to be part of a Quaker community. It now houses an impressive collection of art. The sculpture garden grounds overlooking the Columbia River are delightful to wander through.
Next, head over to award-winning Maryhill Winery. One of the largest in Washington, they have an exceptionally diverse offering of wines. With breathtaking views of the Columbia River from the large patio, you'll want to stay and enjoy a picnic (plan ahead, though they do have some snack food for purchase) and play bocce. Then head just a bit further east to see Stonehenge, a replica built as a memorial to inspire peace.
With your wine cellar stocked, eclectic shopping done, art and culture interests satisfied, and outdoor adventure needs satiated, your weekend now is complete. The beauty is that you have a glorious drive through the Gorge to wherever your is journey is headed next. The rippling river of light that is the Columbia guides your way. Travel well.