Oregon Field Guide's Steve Amen
Tuesday, June 21 at 7 p.m.
Steve Amen, host and executive producer of Oregon Field Guide, one of Oregon Public Broadcasting's longest running and most successful programs, will present Field Guide highlights at the Balch Hotel in Dufur on Tuesday, June 21, at 7:00 p.m.
For 27 years, Oregon Field Guide has been OPB's weekly TV news magazine exploring the ecological issues, natural wonders and outdoor recreation of the Northwest.
The event will begin with a reception honoring Amen and retiring OPB board member Keith Mobley. Mobley, a resident of Dufur, has served on the OPB board of directors since 2007, and was 2014-2015 board chair. His term expires June 30, 2016. Amen, who drew a capacity crowd on his previous visit to the Balch Hotel, is also approaching retirement.
The reception will begin at 6 p.m. at the Balch Hotel, followed by Steve's presentation at 7 p.m. Light fare and beverages will be available for purchase. Space will be limited, and reservations are encouraged for the presentation.
Call 541-467-2277 for reservations.
Boogie at the Balch
Summer Outdoor Concert Series
One Friday a month we'll feature local musicians who will share their talent al fresco. Enjoy dinner, wine, beer and other goodies, as you sit on the patio or lawn.
Friday, July 1, 6:30 - 9 p.m.
Lesley Saunders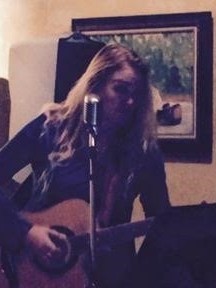 Lesley Saunders lives in Mosier Oregon and has been playing in the area for the past eight years. Her music covers a variety of acoustic rock and ballads rich in vocal harmonies and accompanied by gentle percussion.
Friday, August 12, 6:30-9 p.m.
McDougall
McDougall's imagination often dwells in the very real places of his past, present, and the possible future. His songs might seat you by a coffee-can fire in the middle of a dry California river-bed, pull you up onto a freight train in the lush spring-time of the Northwest, raise your voice in hymn with family on a Thanksgiving afternoon, or hasten your good-bye to civilization, as you ramble on with all you possess on your back. Inspired by the word of God, family, friends, fellow workers and travelers met along the way, McDougall's music carries on the tradition of oral history and folklore as a part of everyday life. Find out more at: mcdougallmusic.com.
Friday, Sept 23, 6:30 - 9 p.m.
PT Barton and Ryan Kolberg
Paint and Pinot for the Artful Soul
July 29 6:30 p.m.
Art parties have taken the Gorge by storm. Don't be left out!
Enjoy an evening of creativity, wine and play at the Balch Hotel. Bring a friend and meet new ones here. We'll paint, eat, sip and play.
Painting is easy-peasy -- absolutely no experience required...Everything you need is provided! You leave with your original masterpiece.
Yummy food, local wine, beer and other beverages are available (not included) Enjoy a fun, creative evening out. $40.00 fee includes all art supplies and instruction. July 29, 6:30-8:30pm
Register at: www.artontheriver.events Questions, call Nina 503-701-8959