Upcoming Events, Retreats & Workshops
Doing interesting things makes life richer
Check back often: we are always updating, adding new experiences to excite and inspire you.
January
Collage Visioning Create Magic in Your New Year with Claire Sierra January 14
Own Your Future 1.0 Strategic Planning Retreat January 24 & 25, (New)
Own Your Future 2.0 Strategic Planning Retreat January 26 & 27 (Returning) RESCHEDULED DUE TO SNOW)
February
Spice up your Valentine 4 Course Artisan Dinner and Room Package Specials. February 14
Soul Stories Retreat Art, Writing, Movement & Storytelling February 17-19

Own Your Future: Strategic Planning Retreat
with Stephanie Hartman
Your business is surviving, but at what cost to your mind, body, and relationships? A catalyst enables a significant business reaction to proceed at a faster rate or under different conditions than otherwise possible.
Are you ready for a catalyst in achieving an amazing, not too distant future?
Experience "Start to finish" a 2-day Strategic Planning workshop for a fraction of the cost that big businesses pay for this exact program. You and your business partner will develop a compass for running your business.
Clarify your IDENTITY
Dream an INSPIRING FUTURE
Analyze the CURRENT STATE
Set near-term GOALS
Select STRATEGIES to achieve them
Create an ACTION PLAN with tasks and dates
First time participants will have support to create work products from scratch. Past participants will revisit and refresh their work products and get additional content. Exercises are updated each year. So returning participants benefit from new insights.
January 24 & 25, 2017 (Version 1.0 for NEW participants)
January 26 & 27, 2017 (Version 2.0 for RETURNING participants ONLY) RESCHEDULED due to snow
Day 1 will be strategic planning
Day 2 you will begin working towards your near term goals. This will include product and pricing updates, implementing time management improvements and marketing planning for the year.
at The Historic Balch Hotel in Dufur, Oregon
Cost Per Business:
Earlybird price $395 (Register by 12/1), Regular price: $475.
Includes tuition, breakfast, lunch, & overnight accommodations (1 traditional Queen room) at the Balch for up to 2 people per business.
Upgrade to Queen with private bath for $40. Additional Traditional Queen room is $75.
Here's what previous participants had to say about the OYF retreat:
This was awesome and has definitely helped us focus our efforts!
The goal setting techniques are very empowering.
Great balance of time management and flexible flow. Group instruction and sharing, private quiet time, and one-on-one time with you. You balanced all of our needs.
You were generous with time and attention. I appreciated that you shared additional concepts and tools as we needed them. The Hartman Performance Diamond was great for thinking about employee issues.
Good stories and examples. I loved the charts and drawings too.
The materials were fantastic. I'm a fan of big paper and colored markers! The color coded notebook and emailed templates for us to fill in were super.

Register for classes in 2 steps:
1) Complete the registration form through this link: https://docs.google.com/spreadsheet/viewform?fromEmail=true&formkey=dFREb3htcW9EZ2tfUWpYZWp3YTcwOUE6MQ
2) Mail check to 202 Oak Street, Suite 100, Hood River, OR 97031
Registration is not complete until payment is received.
New Year Visioning
Magnetize Your Dreams & Desires for a Magical 2017
January 28 12-4pm
Have you taken the time to really harvest the gems of your year,
to release and put 2016 to rest?
Have you allowed yourself to receive your dreams, plans
and visions for 2017?
Now that we've rounded the corner of 2017, you've hopefully had time to rest, reflect and digest all that happened this past year. For many, with big personal and collective challenges, it's one we're happy to leave behind.
Create intentions for this bright shiny New Year. It's time for you.

You know that if you do, it is much more likely to happen.
If you haven't, but know this is just what you need, please join us January 28 at the Balch Hotel in the Columbia River Gorge.
Give yourself an afternoon to gather in a circle and complete the past year, in a process that is quick and painless. (I promise!)
Then meet your new year with visioning to glean what the future holds. Claim the path that weaves in the future you DESIRE to embody and manifest. All while sipping tea or wine, in the cozy elegance of the Balch Hotel.
Explore a reflective process to review, bless and release your past.
Enjoy guided meditation to receive dreams & visions for your New Year.
Collage a Vision Map of the experiences and things you wish to manifest
Discover simple amazing processes that support you to create what you desire that's aligned with your higher self/God/Source.
Connect with like-minded women and feel support for your dreams through simple ritual.
Next steps to keep you headed where you most desire to go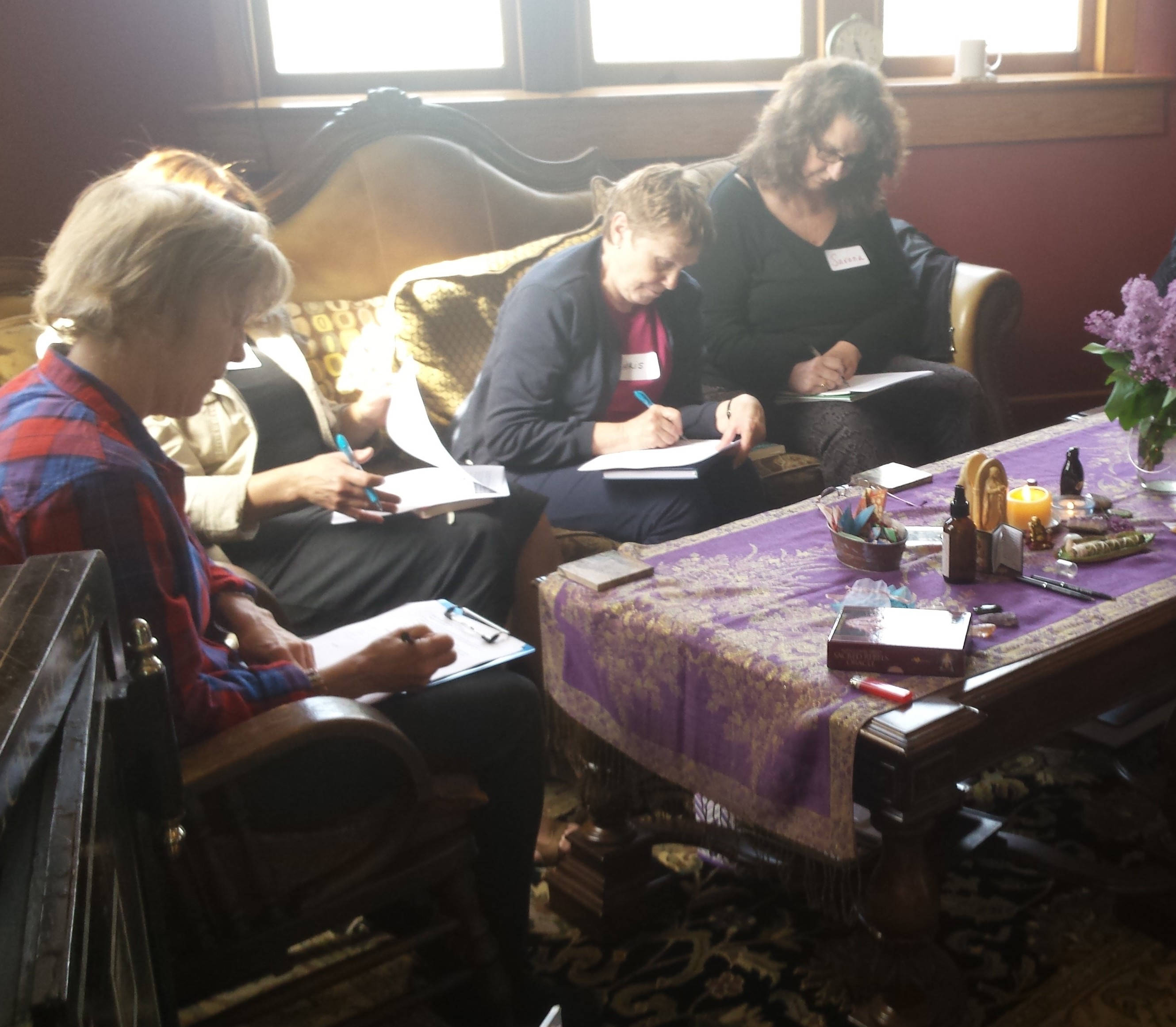 Express your vision for 2017 using simple yet elegant creative practices: art, writing, meditation and movement. Everything is provided (we'll dip into my extensive collection of collage art supplies) and no experience is necessary. Everyone gets to be an artist! (Men are welcome too.)
Artisan Organic Tea and Balch blend Custom Roasted coffee, special house-blended hot cocoa and home-made cookies are included and plentiful.
Wholesome and delicious, locally sourced Organic food will be available for you to purchase (for afternoon lunch or dinner afterward).Locally sourced wine and beer, and artisan sodas are also available.
Deepen your experience and spend the night before or after at the Balch Hotel. (Enjoy an evening to relax, bring your sweetie!)
"I always plan to do a year-end review and make a New Year Vision Map, and I never do it myself, but if you lead us, it'll be magic!…" Savana Rose Woods, retreat participant
Saturday, January 28, 12-4pm
Balch Hotel, Dufur, Oregon
$40 advance/ $50 at the door

PRE-REGISTER for $10 DISCOUNT (Pay $40) HERE
Questions? Claire@MagdalenePath.com or 541.659.7284
Claire Sierra, MA, LFT, is the author of The Magdalene Path – Awaken the Power of Your Feminine Soul ©. An Arts Therapist and True Purpose™ Master Coach, Claire has guided thousands of women who feel confused & frustrated about their lives to connect into deeper clarity, courage and new direction about their true path. She has led creative soul-centered retreats and private sessions for over 2 decades. For free resources, go to: MagdalenePath.com.
Claire and her charming husband are proprietors of the Balch Hotel, a boutique destination inn in the Columbia River Gorge, Oregon. The Balch was recently named #13 of 100 Top Fan Favorite Destinations in Oregon, according to Trip Advisor, Google and Yelp.
If link is broken, copy/paste this Early Bird Registration: https://www.paypal.com/cgi-bin/webscr?cmd=_s-xclick&hosted_button_id=6QD84UGATJ6BW
Spice Up Your Valentine
4 Course Artisan Dinner and Room Package Specials
Baby, it's cold outside. While the world is wrapped in a chilly blanket of white, consider an oasis of warmth in your near future. A love excursion to the Balch Hotel.
Experience authentic, intimate, elegance while dining at our historic inn. Enjoy a 4 course artisan dinner, music and candlelight with your sweetie.
Menu: (in development, check back for updates & further details)
Appetizer: Oaxacan Shrimp Salad with Avocado, Cilantro and just a little heat. Yummy.
Winter Salad: Organic Winter Greens: Arugula and Kale, with feta cheese, mesquite roasted pecans and cherries with -- dressing
Main:
Dessert: Drunken Cherry Chocolate Cake: our own spin on a classic favorite: Rich Chocolate Ganache cake drizzled with Brandy Infused, Fresh Organic Cherries. (To die for?)
With suggested wine (and beer) pairings offered by the glass or bottle, from our local list (not included.)
Dinner for 2: $80. (An 18% gratuity will be added to your bill.)
Note: You may be seated with another couple. Or make it a double-date and have a table to yourselves!
Seating at 6:30 pm. Call to Reserve Your Spot: 541.467.2277 Tuesday February 14
Stay the night if you can!
We have a sweet room package special, including 10% room discount, a bottle of sparkling wine and artisan chocolate from Mexico. Just a bit of spice to warm things up.
The Room Package includes dinner for 2 ($80 value) your choice of Room, organic Mexican Chocolate and a bottle of sparkling wine. Wee!
Traditional (share a bath across the hall) $169 (Valued at $200)
Modern (private bath en suite) one night for $199 (Valued at $240)
See details and book your room, here or call 541.467.2277 to reserve room and dinner
Soul Stories Retreat
February 17-19, 2017
Art, Writing,Movement & Storytelling Weekend Retreat

Bring a memory, your curiosity, and a desire to transform the power of memory into art to the historic Balch Hotel in the expansive landscape near Dufur.

Your soul story describes a particular brush with fate, a sudden insight, unexpected encounter, haunting image, unresolved dilemma, journey to a place. You will be guided to assemble parts of the story into compositions, written and voiced.

In our weekend, we will awaken memory through movement and sound, sit in a circle and describe the memory movie in our head, paint images from the story to see the imaginative truth and emotional power that arises through even a single memory.
You will play with perspective, free the story from fixations, stage it in settings we find in the hotel, trust the creative process that reveals the story's inherent wisdom.
For artists, writers, or non-artist/writers of any age or background.

The Soul Stories method, developed 30 years ago by Susan Banyas, has sparked art making, personal growth, and professional projects through the deep pleasure of witnessing and expressing one's true nature, culture, and calling.

Every story has a message.

In these coming times, the work will be to clarify the message and put it out there with beauty and power. This retreat is designed to give you space and time to experiment, take risks, and relax.
The remarkable restorative Historic Balch Hotel, located where Oregon's High Desert meets the Columbia Gorge, is a boutique destination in Dufur, with 18 unique rooms and a full gourmet buffet breakfast included with your room.
Other meals are offered ala carte at the Balch or in the local area. We will plan a Saturday night dinner together, not included in your fee (optional).
Coffee, tea, and cookies are available at all times in the hotel. To see more about the hotel and book your room, go to www.BalchHotel.com

We will take time to relax, take walks, and enjoy the breathtaking views of Mt. Hood and surrounding rolling farmland. Enjoy spa services provided by Balch Hotel co-owner, Claire Sierra. Email Claire@BlissBreakthrough.com or call 541-659-7284 to reserve space session.

Choose to give yourself a treat and stay an extra day to absorb the experience (Monday is President's Day). Susan will offer a few select spaces for one-on-one consulting on Monday for $50/30 minutes. Email Susan to schedule a session or to inquire about the workshop. sbanyas@teleport.com

February 17-19 (optional day February 20)
Early Bird Special, $225 + room and board if you register by Jan. 10th
$275 + room and board after January 10th
Breakfast included. Saturday night dinner at the hotel not included (optional).
Limited to 10 participants for maximum personal attention and quality experience.

To REGISTER: Email Susan at: sbanyas@teleport.com
Susan will email details when you reserve your spot via email.
Then send $150 check to Susan Banyas 1421 Irving Ave, Astoria, OR 97103 to hold your place, refundable until Feb. 1st. Full amount due by January 10th for Early Bird Special. Checks made out to Susan Banyas.

To book your room, go to the Balch Hotel directly.

Susan Banyas is a multi-media storyteller, director, and dancer. No Strangers Here Today and The Hillsboro Story are both set in Highland County, Ohio,100 years apart, and combine history, memory, and multiple voices to shed light on what is hidden in the shadows of the American dream. Other works--Blue Wheel, It's Been a Busy Week-- combine dance and storytelling into visual poetry, inspired by the ordinary day to day magic, informed by on-going collaborations with dancers, performance poets, and musicians. www.susanbanyas.com

Email sbanyas@teleport.com for further information -- 10 people max for the workshop -- register for workshop with me first, then book room with the hotel.
Register before January 10 for $50 reduced fee.