Upcoming Events, Retreats & Workshops
Doing interesting things makes life richer
Check back often--we are always adding events and experiences to excite and inspire you.
September
Boogie at the Balch: PT Barton and Ryan Kolberg Friday, September 23, 6:30 - 9 p.m.
October
Paint and Pinot for the Artful Soul: Pair Up Friday, October 7, 6:30 - 9 p.m
Boogie at the Balch: Richard Tillinghast Friday October 14, 6:30 - 9 p.m.
Rogue Farms Harvest Taste & Tour Weekend October 14 - 16
Girls' Night Out: Women's Dinner Party, Thursday October 20, 6 - 9 p.m.
The Sovereign Self: A Contemplative Writing Retreat for Women October 21 - October 23
November
Awaken Feminine Soul Power & Live Your Purpose: A Magdalene Path Retreat with Claire Sierra, MA, LFT November 4 - 6
Paint and Pinot for the Artful Soul Friday, November 18, 6:30 - 9 p.m
Thanksgiving Dinner Thursday, November 24
December
Healing Temple & Retreat: Sanctuary for Women December 2-4
Dufur Hometown Christmas December 9-11
Boogie at the Balch
Summer Outdoor Concert Series
Local musicians share their talents al fresco each month. Enjoy dinner, wine, beer and other treats, as you're serenaded on the patio, lawn or indoors as the weather permits
Friday, Sept 23, 6:30 - 9 p.m.
PT Barton and Ryan Kolberg
PT Barton and Ryan Kolberg are musicians and songwriters who've called the Columbia Gorge home for years. PT Barton has partnered with alt-folk acts Mumford and Sons, The Lumineers, Shakey Graves and The Avett Brothers. This duo draws from traditional folk, bluegrass and country, weaving a variety of influences that create energetic, spontaneous, unique performances. Learn more at ptbarton.us
---
Friday October 14, 6:30 - 9 p.m.
Richard Tillinghast
---
More details coming shortly...stay tuned!
Paint & Pinot at the Balch Hotel
October 7, 6:30 p.m.
Enjoy a fun evening of creativity and self-expression. You'll paint, nibble, sip and play.
You'll be expertly guided this month by resident artist, art therapist (and Balch Hotel owner) Claire Sierra, to paint: "Pair Up" (shown here). Absolutely no experience required! Everything you need is provided.
Enjoy locally sourced menu options, local wine/beer and other beverages available for purchase (not included.)
It's a fun, creative evening out. Bring a friend and leave with new ones.
Yummy food, local wine, beer and other beverages are available (not included)
$40.00 Includes all art supplies and instruction.
Friday October 7, 6:30-8:30pm
Questions or Register by phone: 541.659.7284
Reservations or Questions for Balch Hotel: 541.467.2277
Upcoming Events:
November 18: Red Forest
December 9: The Moth
Rogue Farms Harvest – Taste & Tour Weekend
October 14-16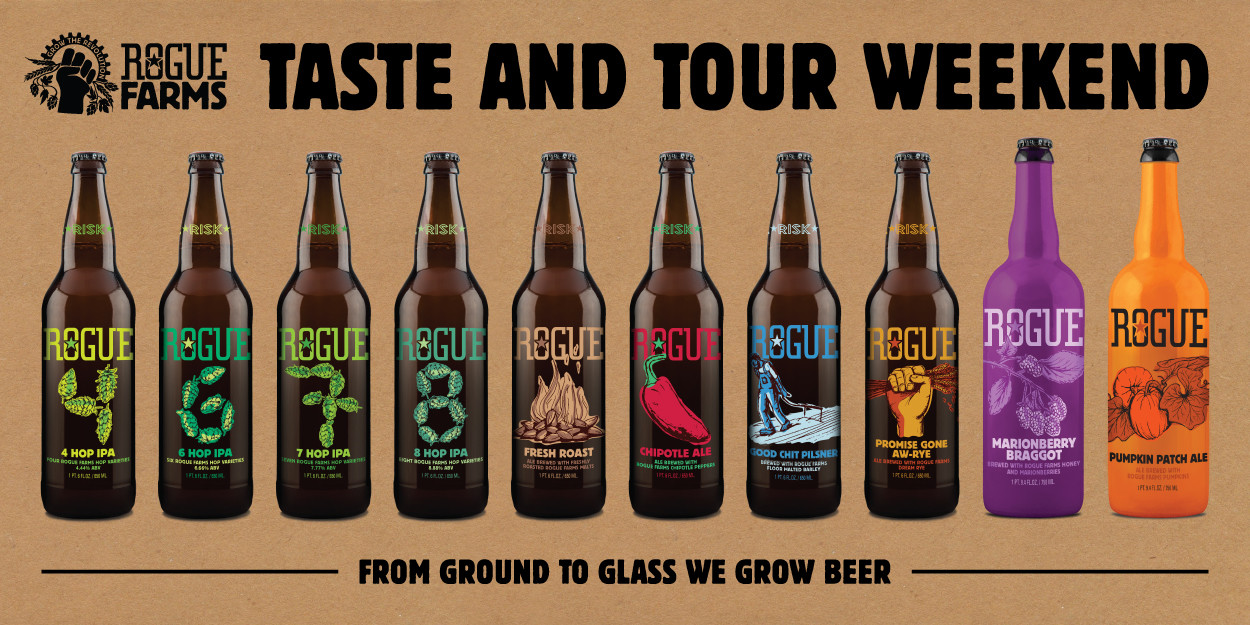 If you're a beer lover, this Ground to Glass weekend is for you: a unique insider experience into growing and brewing Rogue Ales of Portland. You're in for a fun exploration that takes you on a taste-tour of micro-brewed, locally sourced beer. The weekend includes a casual, informative tasting evening with live music, a local farm tour (where beer is grown!) and a 5 course beer-inspired feast.
Start with a Friday evening tasting flight of their specialty IPA family just released from the recent harvest, as you nibble appetizers and mingle with other beer aficionados. We'll have live music and a fun activity to increase your understanding of just what you're sipping.
Saturday, grab a box lunch and travel by the cool Rogue Farms van on to tour and explore Rogue's farm in Tygh Valley - where they grow the grains and fruits that flavor their beer.
Saturday evening experience a 5-course tasting dinner prepared under the direction of culinary wizard Kathy Watson (formerly of Nora's Table in Hood River), for an exquisite menu specially prepared to pair with Rogue's fresh seasonal beers.
Sunday, after gourmet buffet breakfast, relax and enjoy the Balch grounds. Head home when you want, feeling satiated and beerified. Optional beer tasting suggestions for the trip home.
MENU
Course 1: Smoked salmon, potato sope, poblano creamed corn, avocado mango salsa (yum!) Beer: Good Chit Pilsner

Course 2: Duck confit, puff pastry, brie, pear chutney (really?!) Beer: Four Hop

Course 3: Monterey Jack-stuffed beef and pork slider, hand-made slider bun, chipotle slaw. Beer: Promise Gone Aw-Rye

Course 4: Chicken in mole negro, black beans, goat cheese (Are you drooling yet?) Beer: Seven Hop

Course 5: Mocha cheese cake with a burnt caramel swirl, Fresh Roast reduction chocolate sauce (mmm...chocolate and caramel....) Beer: Fresh Roast
Rogue Ales' beer maker will provide tasting notes and educate us on the beer chosen for the meal.

This is a limited space weekend package so reserve your space today.
The weekend includes:
Two nights accommodations at the Historic Balch Hotel (Oct. 14-15). You get a 10% discount on your rooms with this package!
Friday Night: welcome reception with beer tasting, appetizers and live music to get the weekend going.
Saturday: after breakfast we will provide a box lunch and you'll board a van for a quick ride to the Rogue Farm in nearby Tygh Valley. You will learn all about "how beer is grown."
Saturday Night: enjoy a gourmet 5-course meal and beer pairing.
The price for two for the weekend is just $479 for a Traditional room or $591 for a Modern room.
Ala Carte Options:
Beer Tasting Dinner: A limited number of seats are available for just the dinner and beer. They are $90 per person. You can call or book online on our Special Packages Page
Other options are are also available, call 541-467-2277 for details and to reserve.
Girls' Night Out: Women's Dinner Party
October 20, 6-9 p.m.
Do you love dinner out with a few girlfriends? How rare is it?
Our monthly dinner is a new social space for women to connect, laugh and have inspiring conversations. Come for dinner, and be nourished by delicious food and drink as well as nurturing conversation with other women.
Dinner offering will be our usual local/organic Light Fare menu (plus specials). Yes, we offer vegetarian and gluten free options. Enjoy a glass or two of locally sourced wine, beer, cider, and other beverages.
Join a big table, order dinner, drink wine, savor dessert as you meet new women or get to know girlfriends better.
Pure femme fun. Bring a friend or come alone and meet new ones.
FREE (Except for your food and drink, of course.) EVERY THIRD THURSDAY OF THE MONTH.
The Sovereign Self: Contemplative Writing Retreat for Women
Friday, October 21 - Sunday, October 23
with Dawn Thompson of Portland Women Writers
When you sit on the throne of the Sovereign Self you are self-governing, powerful and move through the world with grace. You act in accordance with your Soul's purpose and remember you are the author of your own life story.
In order to connect with your expansiveness and authenticity you must have opportunities to step away from the demands and loves of daily living. Women thrive when they gift themselves time and space to breathe, to be surrounded by beauty and when they honor their creative voice.
Gift yourself an inspiring weekend retreat this fall with long-time Portland Women Writer facilitator and writer Dawn Thompson at the charming and intimate Historic Balch Hotel located in the lush, golden hills of Oregon's Columbia River Gorge.
The sanctuary of this retreat will offer you the opportunity to reconnect deeply with your Sovereign Self through these powerful doorways:
Prompted writing to dive deeper into meaning and reflection of your authentic truth.
Sharing story to enable your voice to be heard and valued.
Guided meditation to connect you deeply to your inner wisdom.
Time in nature as well as silence to hear the call of your spirt.
No writing experience necessary.
For more information or to sign up visit:
or contact Dawn at: dawn@pdxwomenwriters.com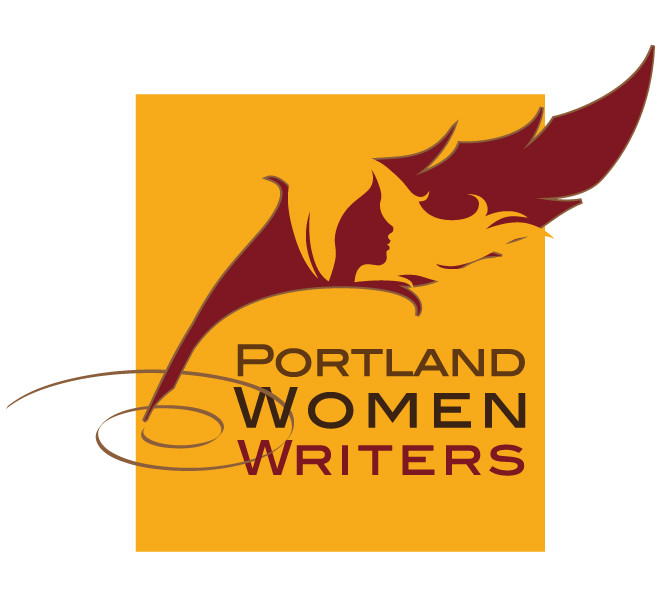 At Portland Women Writers, our passion is to offer a safe environment for you to access your creative power and express your authentic voice. Our writing workshops and retreats give you the opportunity to share stories in a fun, transformational, and vibrant community. We offer breathing space for creative expression for beginning as well as seasoned writers of all ages and backgrounds
Awaken Your Feminine Soul Power & Live Your Purpose
A Magdalene Path Retreat with Claire Sierra, MA, LFT
Are you longing to have a stronger, clearer connection to your Soul Guidance?
Perhaps you've had experiences of Divine Feminine connection but can't sustain it in everyday life. Or you have a sense of a bigger calling but can't quite get what that is.
You know, deep inside, that you are a beautiful, divine woman. But lately, you just haven't been feeling it. I get it.
Everything feels like a struggle. You're working too hard. Life feels exhausting not rewarding. You know it's time for a shift.
Big unexpected changes and stress have you in their grip. Your path no longer seems clear.
Perhaps you think if just be more organized, on top of things, more disciplined, and do less, that your life would feel on track again?
Actually, there's a better way. A path that takes you out of the doing, striving, busy struggle energy of the masculine mode we've been so accustomed to, and connects you with the calm, easy, graceful, creative intuitive energy of your Divine Feminine Soul.
You can:
Experience your Feminine Soul power consistently, which you can access it on a daily basis to counteract stress and unhappiness

Connect with your Divine Guidance with clarity and ease.
Know your Divine Purpose and be confident as you take steps towards living it.
Access a deeper power through art and writing for invaluable sources of wisdom and guidance.
Know when you feel off-course and what to do to get re-aligned.
Join an intimate gathering of women: Awaken Your Feminine Soul Power, Live Your Purpose: A Magdalene Path Retreat with Claire Sierra, MA at the Historic Balch Hotel.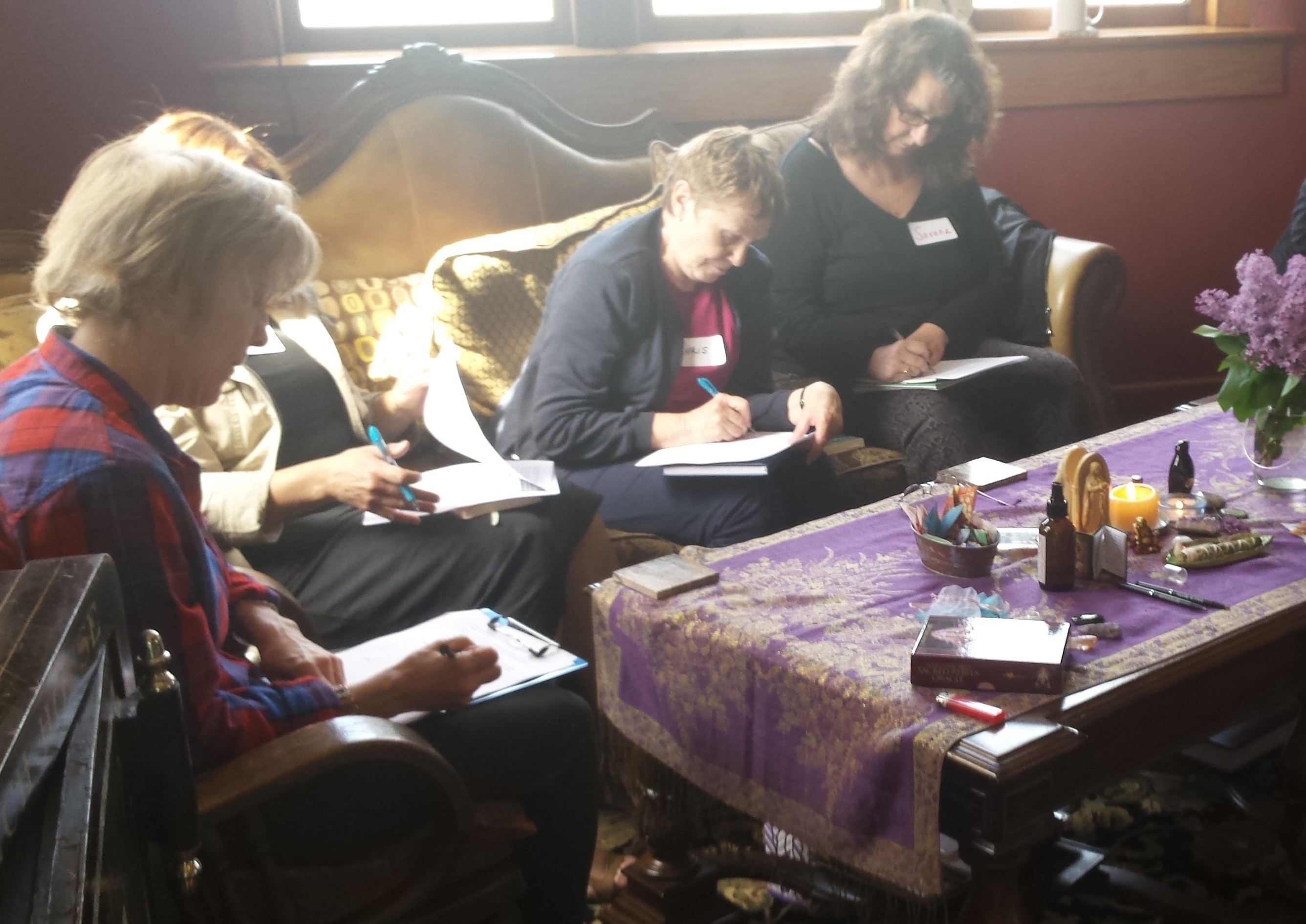 Together we'll gather as a sacred circle of sisters to explore your Divine Feminine Essence and express your soul's voice, with tangible direct encounters. Experience art, meditation, and Listening to Spirit—a guided journaling process that led to the writing of my book, The Magdalene Path.
Not an artist? Not to worry! We'll use creative processes in ways that are simple and low stress--even a novice will feel comfortable.
You'll experience creative practices that will shift you from relying solely on your masculine power to activating your inherent feminine magic, making way for more ease and joy, and less stress and struggle in your life.
By connecting with your personal soul guidance you can receive practical, useful information about your career, love, health and more.
Where is this retreat?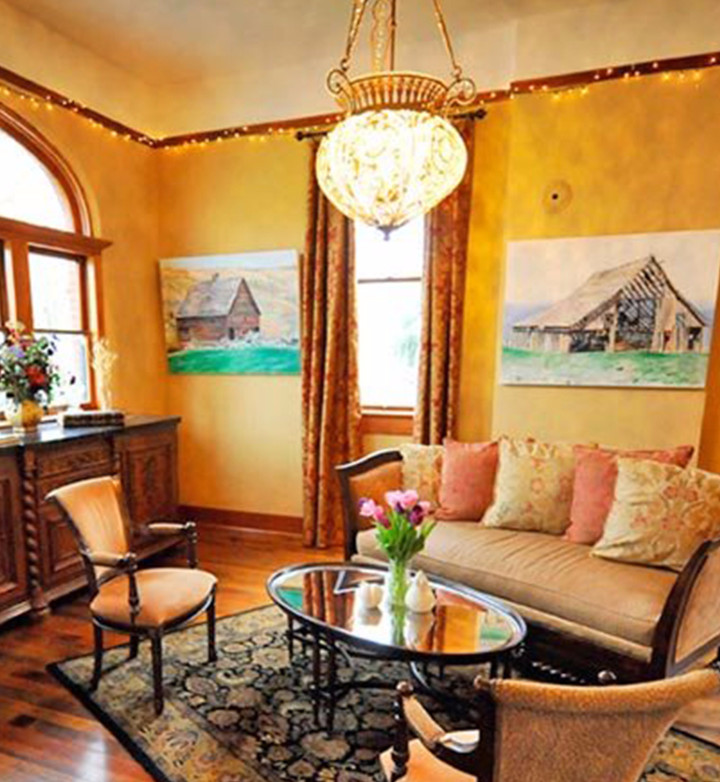 We'll do all of this in the elegance and simplicity of the Balch Hotel, a boutique inn in the Columbia River Gorge of Oregon. The Historic Balch Hotel offers a unique intimate experience for wellness retreats.
The elegance of this 18 room historic country inn, surrounded by the golden expanse of wide open meadows and big sky produces clarity of mind and heart that settles the soul. With on-site dining and spa services, sunny patio, beautiful garden grounds and majestic Mt Hood views inspire space for personal rejuvenation and re-connection.
You'll choose your own lodging to fit your need for luxury or budget, from one of 18 uniquely appointed rooms filled with vintage décor and antiques, and a comfy bed guests rave about.
With 300 days of sunshine, the Balch is a great escape that's close to Portland, Seattle, Salem, Bend and Boise. Centrally located in the Columbia River Gorge, after a short drive, you'll feel like you're a world away.
What about meals?
Breakfast is provided with your lodging. Lunch, dinner are on your own and are available at the hotel so you don't even have to leave the property. You can settle in and relax into your Feminine Essence, or venture out to explore the nearby village haunts if you're interested and adventurous.
Who is Claire Sierra?
Aside from being the wellness & spa director at the Balch Hotel, Claire Sierra, MA, LFT, is the author of The Magdalene Path – Awaken the Power of Your Feminine Soul ©. An Arts Therapist and True Purpose™ Master Coach, she's guided thousands of frustrated women into lives of deeper meaning, ease and new direction.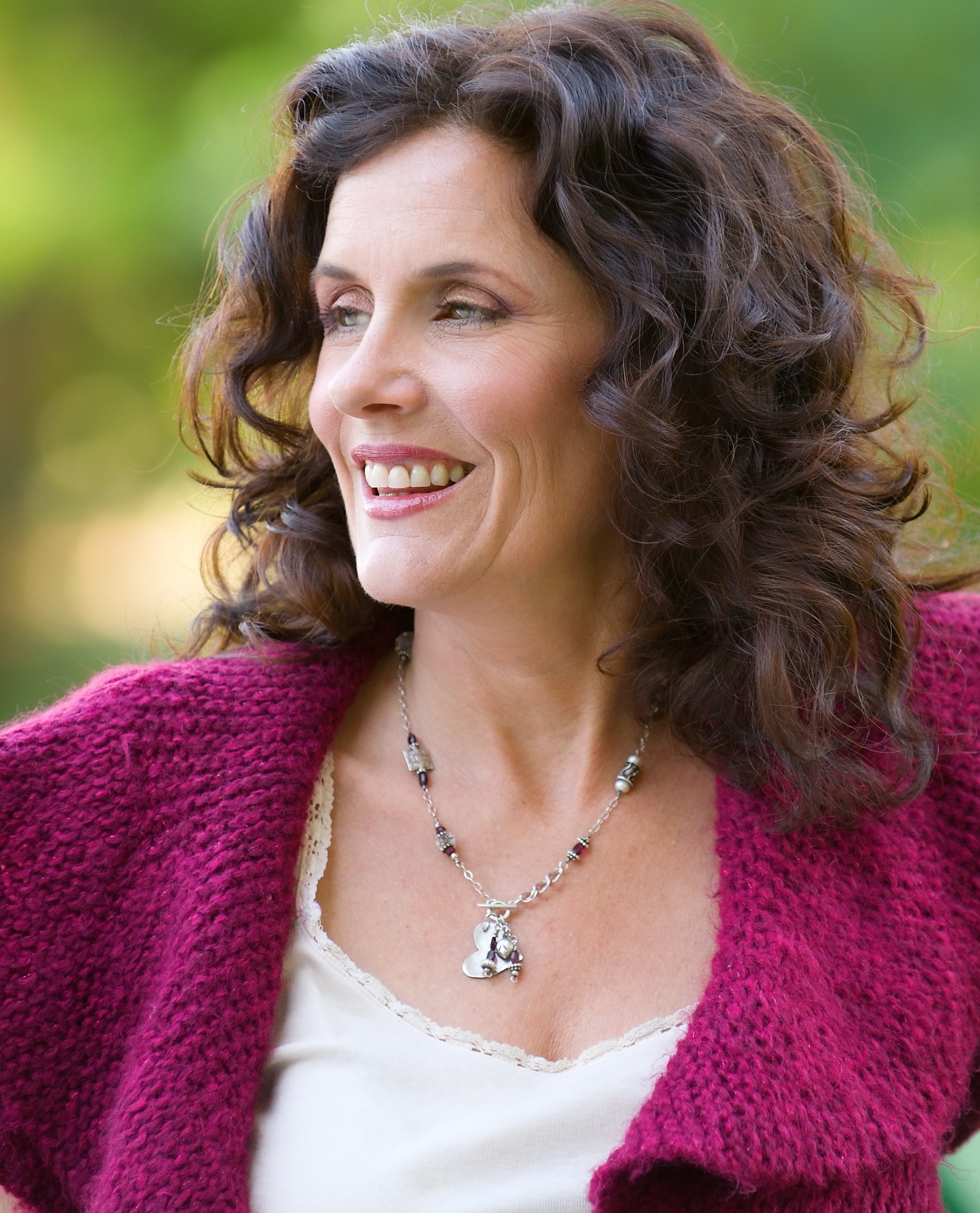 Claire has led creative soul-centered workshops, retreats and private sessions for over 2 decades She uses art to help women at midlife who feel lost & confused about their purpose, connect to their divine guidance for clarity & confidence about their true path.
To support greater re-connection she and her husband recently became proprietors of the Balch Hotel, a boutique destination retreat, spa and gallery in the Columbia River Gorge, in Oregon.
For meet Claire and get free gifts go to: MagdalenePath.com for sample chapters, meditations, audio interviews and more.
Here's what past retreat participants shared:
"Great, magical, transformative retreat. I enjoyed every minute of it." -Melanie K, Portland OR
"I came not knowing what to expect, but with optimistic hope of a new journey. I ended the retreat with a definite sense of purpose and the beginning of a new phase of my life—with skills and tips to a new way of thinking in a positive, enlightened awakened way. Peace! Pat D, Glastonbury, CT
"I started the retreat feeling stressed and very indecisive about my past decisions and future choices. Now I have more clarity and I need to go to my spiritual essence to guide me more. You gave me excellent tools to incorporate into my day-to-day life, decision-making and for emotional and spiritual connections." -Hazel L., Concord, MA
"I just want to thank you again for that retreat. It literally changed my life. I came home a changed person and I haven't gone back. When I arrived I had lost touch with myself. I was so busy working, trying just to get through the day doing my job, and earn a paycheck. It was sucking the life out of me. I reconnected to the magical visionary part of myself. Since then life is lining up to support me in incredible ways with a whole new possibility for myself." -Savana W, Vancouver, WA
Ready to say YES to the power of your Feminine Soul and living your divine purpose?
Join us...
November 4-6, 2016 (Friday evening to Sunday afternoon)
Early Bird Price: $497 ($597 after 10/8).
Lodging and meals not included.
Click here to purchase this package:
Questions? Claire@MagdalenePath.com
Inquire about payment plans or scholarships.
FAQs
Do you have a payment plan or scholarships? There will be a limited number of partial scholarships offered as work-trade. Payment plan is available, contact Claire directly to discuss: Claire@MagdalenePath.com
Do I have to pay for it all right now? No, to register for the retreat, you'll pay the retreat fee. Your lodging and meals are paid upon checkout at the hotel.
Are meals included? Breakfast is provided with your lodging. Lunch and dinner are on your own, and are available at the hotel so you don't even have to leave the property. We've found this affords the greatest flexibility, so everyone can eat when and how they want.
I have food sensitivities or preferences; can the hotel accommodate me? Yes, the Balch Hotel staff is experienced with offering gluten free, vegetarian and other food preferences. Please let the hotel know this when you reserve your room so they can be prepared to serve your needs.
Can I bring my own food and cook my own meals? Sorry we don't have adequate refrigeration to store your food safely. There is a small mini-fridge in the dining room that is shared by all 18 rooms, so please be aware of other's needs. Local health codes do not allow guests in the kitchen.
Where will we eat? The Balch has a 40 seat dining room and a patio that seats 25-30 in warm weather. You can settle in and relax into your Feminine Essence, or venture out to explore the nearby village haunts if you're interested and adventurous. There are several other options in downtown Dufur.
I'm not at all creative, can I do this? First off, EVERYONE is creative, in their own way. In fact having less experience can be better sometimes, as it gives us a fresh start. You're a clean slate. So yes, you can do this. I've been teaching these tools and methods for over 20 years and they work with everyone who gives an honest effort. You'll do fine.
What's your Cancellation Policy? For these retreats to be personal, powerful and effective, we limit their size. So last minute cancellations make a big difference in the quality of everyone's experience. So if you won't be able to attend after registering, we'll refund you 100%, minus $50 admin fee, if you cancel by the Early Bird Deadline. If you cancel your registration after the Early Bird Deadline, you will receive a 50% refund unless there is a waiting list, and the waiting participant is actually able to attend. (You would only be charged the $50 admin fee.) No-shows will not receive a refund. You will not be charged for your hotel room unless it is less than 72 hours prior to start of the event, at which point you would be charged, per hotel cancellation policy.
Join us November 4-6, 2016
Early Bird Price $497 ($597 after 10/8).
Lodging and meals not included.
Click here to purchase this package:
Questions? Claire@MagdalenePath.com
Inquire about payment plans or scholarships.
Healing Temple Day & Retreat
Sanctuary for Women
Are you long overdue for a day devoted to your own nurturing?
Do you need to slow down, recharge your batteries and get some perspective on your life?
Join us in The Healing Temple: an intensive, yet spacious, guided event that is a cross between a meditation retreat, a ritual, and a healing spa.
You are invited to surrender into Receiving: to be nourished, supported and witnessed within an intimate group of fifteen women in a many-layered experience that has the feel of a day-long ritual. You will spiral many times through the choreographed rhythm of this mostly-silent day.
Receive a variety of mini-sessions from a skilled team of 5 Healing Practitioners who will help catalyze and integrate your experience; you will reflect, alone, with your journal and colors; and you will have opportunities to share, in a small, facilitated group.
This will be your time to explore, shift, or otherwise transform something that is "up" for you, in your life — all in a Container that is held and tended by 7 staff.
The Day of Sanctuary is designed so that you can come for the day, and drive home. However, The Balch Hotel is excited to offer the first-ever Healing Temple Retreat Option — where you can stay Friday and Saturday nights! This would give you a chance to really sink in to your experience… to receive the benefits of integrating the day before you head home. We'll offer pre- and post-Temple experiences for those arriving on Friday night and departing on Sunday — at no extra cost. Consider gifting yourself the time — and create a 3 day retreat.
Retreat Option:
Friday afternoon or evening: Arrive the night before, so you can settle in. Relax and be ready for our 10 am start time with no stress or struggle, after a delicious Balch Hotel gourmet buffet breakfast. Meet other women who will be your sisters on this journey of self-care and renewal. Enjoy some nibbles in the parlor or have dinner at the Balch Hotel or at a restaurant within easy walking distance in Dufur.
Saturday: You will be guided on your temple journey to nourish and rejuvenate yourself. (As described above)
Evening: You'll have the evening to relax and digest your experience. You might want to connect further with the ladies from your journey or give yourself the time in solitude, to process and reflect. Take a walk or draw a hot bath in a clawfoot tub. Have dinner on your own, or shared with others at the hotel or in the village of Dufur.
**We may offer an evening circle or activity if there is interest from the group.
Sunday: After a delicious Balch buffet breakfast, you'll gather in circle to deepen and debrief about your experience. Share as you like. We'll do a brief ritual to create closure and intentions that support and empower your next steps. After that, you're free to continue your stay and enjoy the grounds... or begin your travels back home.
For Details and to Register:
Healing Temple Day: Saturday December 3: $425 before 11/11, $475 after 11/11 (Lodging not included.)
To see more details and book your room for a 2 or 3 day retreat December 2-4, 2016: www.BalchHotel.com